From Your Editor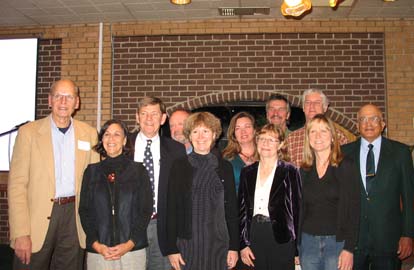 Our Annual Meeting was on Saturday Nov. 1. Welcome your new CMC council, pictured on the left.
Gerry and Paula McNabb were made honorary life members. Charlie Ferguson received an award of appreciation for his work in 2008.
The following people received their patch for completing the SB6K:
Bland, David Booker, Jr., R. Michael Booker, Jennifer Daniels, Andrea (Andy) Jones, Linda Jones, Mike Prince, Joseph K. Sanders, Ned.
---------------------- Back to Top
What's Happening in the Next Two Weeks
Wilderness First Aid Course on Nov. 15 -1 6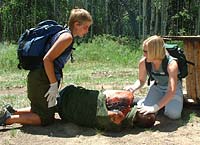 A Wilderness First Aid (WFA) will be offered on November 15-16 at the Blue Ridge Parkway's Destination Center. This hands-on, sixteen-hour course covers a wide range of wilderness medicine topics for people who travel in the outdoors. Whether you are a hiker, maintainer, or leader, you want to be prepared for the unexpected. The Wilderness Medicine Institute of the National Outdoor Leadership School (NOLS) has a unique curriculum with topics that haven't been covered in classes previously offered through CMC. After these two days, you'll have the knowledge, skills and ability to make confident decisions in emergency situations.

Your cost is $55; the club will be covering half of your tuition. Tuition subsidy available only to those who were members as of August 7, 2008. Contact Cindy McJunkin at mcjfive@aol.com or 828-712-9646 for more details and to enroll.
---------------------- Back to Top
Last Chance this Year to extend the MST south. November 15

This is your last opportunity to give something back for all the fun and enjoyment you have had on the trails this past season. We hope to have a large group help us complete another piece of the MST going south to the Scott Creek over look, south of Balsam Gap, BRP mile 449. We only have a small piece to finish this section. The next piece is already flagged and partially cut.
Meeting Place: Moose Café at 9:00 AM for car pooling.
Parkway Maintenance Office, Balsam Gap intersection with Rt. 74/23 south of Waynesville or BRP Mile 449 Overlook @ 9:30
Tools will be available but if you have digging tools of your own, please bring them. Please call all your friends and acquaintances and invite them. The bigger the group, the more the fun!!! Special gift from REI to all who work !!! Rain Date is Saturday November 22. Piet Bodenhorst

---------------------- Back to Top
A Website Insight - Challenge Program
If you really want to get to know these mountains, one of the most interesting ways to do it is through one of our four challenge programs. These are programs that you can do at your own pace. The results are satisfaction, an award, a patch and a much better knowledge of these mountains.
The granddaddy of them all is the South Beyond 6000 program, known as the "SB6K". Climb to the very summit of the 40 6000-foot peaks on our list to earn the award. Once you've done this whenever you see a really high peak you can say to yourself "I've been up there."
The Pisgah 400 challenge is to hike all the maintained trails in the Pisgah District of the Pisgah National Forest. There are roughly 400 miles of trail, and there's no better way to learn the local mountains and trail network. In fact, you'll be an expert when you're done.
If you are a photographer or just love views, our Lookout Tower Challenge will take you to the tops of 24 lookout towers. Some are easy to get to, others merit the word "challenge". All provide wonderful vistas. Unfortunately, there are fewer towers every year, so hurry.
Another challenge with a lot of great scenery is the Waterfall and Cascade Challenge. Visit the 100 falls and cascades on our list and you can have some really nice pictures. It's a great mixture of easy and challenging hikes, each one with a beautiful reward. Our Web page has a link to another challenge. Hike all the official trails in the Smokies and you can become a member of the 900-Miler Club. It takes some work and time, but it is a very rewarding challenge. Visit the Club web page for the challenge that interests you and get complete information! Dave Wetmore.
---------------------- Back to Top
Three-State Park Weekend – April 17 to 19, 2009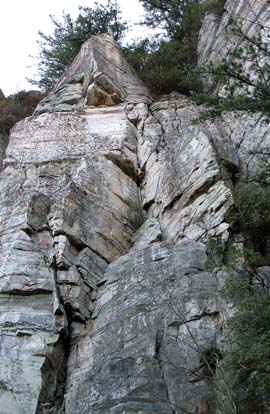 Come and hike in Stone Mountain, Hanging Rock, and Pilot Mountain State Parks.
You'll walk on Stone Mountain's 700-foot granite rock dome and see an amazing field of moonshine equipment.
Hanging Rock and Pilot Mountain State Parks, in the ancient Sauratown Mountains, have high quartzite cliffs, moderate woodland trails, and isolation from other mountain ranges. We'll stay in well-appointed cabins for two days at Hanging Rock or you're welcome to camp. All details are coming soon but for now, save the date.
If you have questions, call or email Danny Bernstein (828-236-0192).
---------------------- Back to Top

Maintenance Data Clerk Wanted
CMC is looking for one good member volunteer to be our new maintenance data clerk to input trail hours and work done, and to help generate reports. Reports of our trail hours are sent to the US Forest Service, the ATC, the BRP and other organizations with whom we work, and are used for CMC awards. Basic computer skills are necessary, as is a conscientious attitude. Some knowledge of our maintenance crews and trail sections would be helpful, but that can be learned. This job will require 2-4 hours per week, and you can do the work on your own time. If interested, please contact Becky Smucker at bsmucker@charter.net and Don Walton at donwalton@bellsouth.net .
---------------------- Back to Top
Highlights from the Great Smoky Mountain Coalition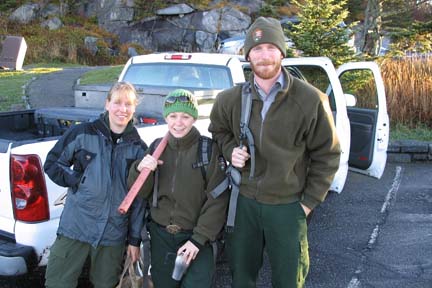 The Trails Forever program is a four million dollar program that will provide a permanent trail crew to work on big trail projects in the Great Smoky Mountains National Park. Two millions dollars have already been committed and there soon will be a major capital campaign to raise the matching funds. In the meantime, work has been done on the Jakes Creek and Baskins Trail and continues on the Forney Ridge Trail to Andrews Bald. The picture to the left shows a trail crew that I met on top of Clingmans Dome, getting set to go toward Andrews Bald.
The four parties [Swain County, Dept. of the Interior, TVA and the state of N.C.] are still working to come up with a dollar amount for the financial settlement. CMC, along with other outdoor organizations, has written letters to Secretary of the Interior, Dirk Kempthorne, Lyle Laverty, Assistant Secretary for Fish and Wildlife and Parks, and the Superintendent of the GSMNP urging them to settle up with Swain County. See Ruth Hartzler's letter. We urge others to write as well. See the addresses at the bottom of Ruth's letter. Danny.
---------------------- Back to Top
From an A.T. Hiker
Hi, I wanted to compliment you on the great condition of the AT when I hiked there over Columbus Day weekend. I walked from Max Patch to Garenflo Gap and was amazed at how well the trail was maintained. I've done some trail maintenance work in New England and know how much work it takes. I also was awed by the cables at Roaring Fork and Walnut Mountain shelters that made it easy to protect our packs from bears. I'm grateful to you all for your work. Sue Reinert Cambridge, MA
---------------------- Back to Top
From the BRP Foundation Newsletter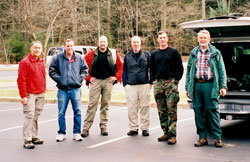 CMC hikers are featured in the latest Blue Ridge Parkway Newsletter. See http://www.blueridgeparkwayblog.com/foundation-executive-director/general/volunteers-only-part-of-the-answer-to-the-parkway-s-budget-crisis
---------------------- Back to Top

Adopt a Section of the Appalachian Trail
Davenport Gap to Waterville School Rd. 2.4 miles
Adopt a Section of the MST
Walnut Cove Overlook to Hardtimes Road 1.2 miles
Orchard Overlook to Balsam Gap, 2.5 miles
BRP Headquarters-Spur Access to I-40, 1 mile
If you're interested in either the A.T. or MST, email Don Walton.
---------------------- Back to Top
Maintenance Reports created by Don Walton
---------------------- Back to Top
Smokies 900 Completer and Aspirant
CMC doesn't administer the Smokies 900 Challenge - the challenge to hike all the trails in the Smokies. But several members have finished it and several others are actively working on it.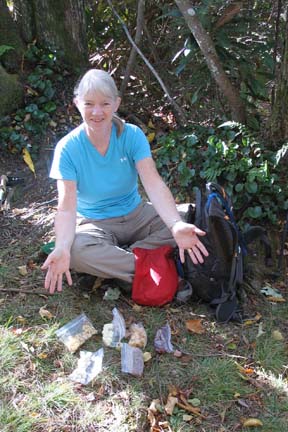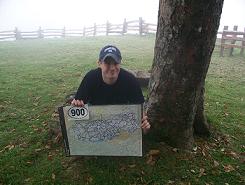 Peter Barr finished all those trails in September 2008 - Congratulations.
Sharon McCarthy, SmokyScout, a CMC member from Charlotte, is working on doing all the Smokies 900 in a year and she's collecting money for the Girl Scouts. She's been a scout leader for decades and this is her non-profit organization. Read her blog on what it takes to do the Smokies 900 and think about supporting her cause.
---------------------- Back to Top
The eNews comes out on Fridays. So ... The next issue will come out on Friday, November 21. This will allow the Sunday and Saturday hike leaders a little more time to send in their report; Wednesday hike reports for the hike just before the eNews comes out will be published in the next eNews.
So send me your news and maintenance reports by Tuesday evening at 9 P.M. before the newsletter comes out, that is, by Tuesday evening November 18, 2008 to Danny Bernstein at danny@hikertohiker.com. Include your email address at the end of your story. I can only accept the Wednesday hike report by Wednesday evening. Thank you.
The CMC Calendar is meant to answer the perennial question "When is this happening again?" It is also meant to prevent conflicts between competing CMC events. Please check it often.
How to join the Carolina Mountain Club
1. Go to www.carolinamtnclub.org
2. Click on "How to Join" (upper-left on web page)
3. Print out the "CMC Application Form"
4. Fill it Out, write a check for your dues and ...5. Mail to CMC, PO Box 68, Asheville NC 28802

For CMC members only - Send all address and email changes to Marcia Bromberg at mwbromberg@yahoo.com.
If you are a non-member subscriber, you need to go back to the CMC home page > News >Subscribe and change it there yourself.
---------------------- Back to Top