From Your Editor
Every year, CMC honors members who have made a difference to the club and to the hiking and trail maintenance community. Please send in your nomination. See below. Danny
What's Happening in the Next Two Weeks
MST Trail Building Day - Saturday August 22
You are invited to extend the MST (Mountains-to-Sea Trail) South on Saturday August 22.
This is a great opportunity to give something back for all the fun and enjoyment you've had on the trails this past year. We hope to have a large group to help us complete another piece of the MST going South to the Soco Gap Overlook, South of Balsam Gap, BRP milepost 456.
We 'll meet at the Moose Cafe; at 9:00 AM for car pooling. The second meeting place is at the intersection of the Blue Ridge Parkway and Rt. 19, South of Maggie Valley. Tools will be available but if you have digging tools of your own, please bring them.
Please call all your friends and acquaintances and invite them. The bigger the group, the more the fun!!! No prior experience is required. Piet Bodenhorst
---
WCQS (88.1) Day Sponsor on Aug. 27
CMC will be a "day sponsor" for WCQS (88.1), the Asheville NPR station on Thursday Aug. 27. The approximate times will be after 8:30, during the noon hour, and just before or during the 7:00 hour. So listen for mention of our club.
---
A.T.C. Conference Report - Part 2
More input from CMC members on the highlights of the A.T.C Biennual meeting.
The next Biennial Conference will be held in Emory, Virginia on July 1 - 8, 2001. Put it on your calendar. Danny
---
Looking for Pictures of the MST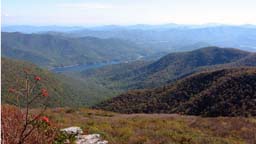 Gerry McNabb and Walt Weber are preparing a slide show for use at Diamond Brand and other locales to introduce our Revised MST book coming out this fall.
They would like to have some good MST shots to include in the show, including work photos of building the trail.
Just send a few of your favorites to me at my currently empty contest mailbox. The address is contestmcnabb@charter.net (even though this is not a contest). Gerry McNabb
---
Awards Committee Seeks Nominations - By September 1
Each year CMC recognizes outstanding contributions to the Club with two awards.
The Distinguished Service Award recognizes service to the Club over at least a five year period. The Award of Appreciation recognizes a truly outstanding contribution to the Club over a shorter period of time, as little as a year.
The Awards Committee is seeking nominations for both of these awards. If you know of someone who you think should receive an award, please send details of their contribution to Lenny Bernstein, Chair of the Awards Committee, by September 1. You can either use the form on the CMC Website or send Lenny an e-mail (Lsberns@att.net). Please be as specific as you can about the nature of the member's contributions to CMC.
---
Newfound Gap Road Closed on Sept. 2 for GSMNP Rededication Ceremony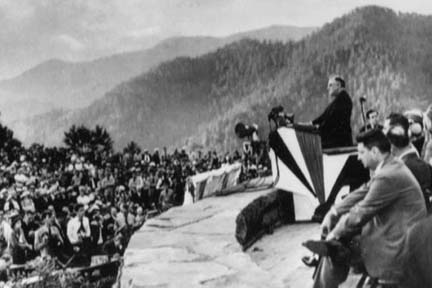 Great Smoky Mountains National Park Superintendent Dale Ditmanson has announced that the Park's September 2nd 75th Anniversary Re-dedication at Newfound Gap will be attended by an impressive array of officials from North Carolina and Tennessee, including the governors of North Carolina and Tennessee.
Because of the limitations of the site, Newfound Gap Road will be closed from 8:00 p.m. on September 1 to 6:00 p.m. on September 2. Plans have been made to bus all attendees from parking areas outside the Park. "Although we will need to close Newfound Gap Road, as they did in 1940 and for the Park's 50th Anniversary in 1984," Ditmanson said, "We want people to know that the remainder of the Park will remain open as usual. Visitors will still be able to enjoy Park destinations such as Cades Cove, Roaring Fork Motor Nature Trail, Cataloochee and Deep Creek as well as most of the Park's trails.
P.S. The photo above is of President Franklin D. Roosevelt dedicating the Great Smoky Mountains National Park on Sept. 2, 1940 and was not taken by your editor.
---
Roan Mountain Grassy Bald Management - Aug. 28 and 29
Here's an opportunity for sawyers and other volunteers to keep the Roan Mountain Balds, bald.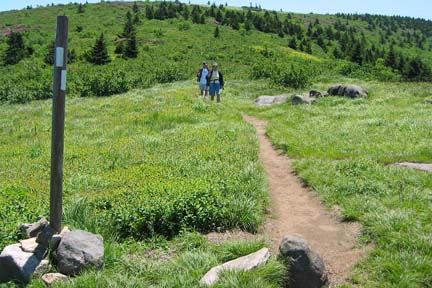 Check out the details.
---
Lead a Hike in the Smokies
Haywood County is planning several hikes in the Great Smoky Mountains National Park Aug 28 - Sep. 7 and is looking for CMC members to lead or sweep. If you're interested, contact David Stubbs
---
Joanne Tulip Becomes a 2000-Miler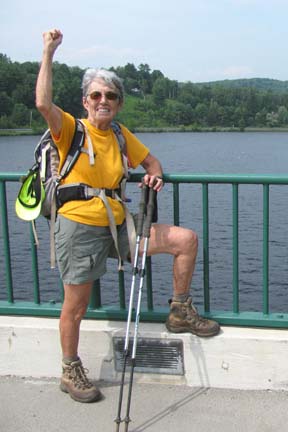 The desire to end my A.T. journey was realized when the ATC conference took place in Vermont.
Hiking with CMC members (the Trekking Twins and Mtnann), we journeyed north from North Adams, MA. to attend the conference and did 72 miles on the scheduled hikes.
I enjoyed hiking with Tish ( a CMC member) as she was the sweep on one of these hikes. We had approximately 30 miles left to hike and finished on the middle of the bridge over the CT River at the VT/NH state line.
I also have many hiking memories with two other CMC members( Cherrios and MotherGoose) on previous sections. We found many back roads and small hamlets and met hikers from many different places with stories to tell. It was an amazing adventure.
TULIP (Joanne Tulip)
---
Stuart Tauber
Stuart D.Tauber, M.D., unexpectedly passed away in Asheville on August 1 after a short illness.
Stuart moved his practice and family to Asheville in 1972 where he was able to practice his specialties in diabetes and endocrinology, and pursue his outdoor disciplines in biking, running, hiking, and backpacking. As a member of the CMC, he scouted and lead hikes, served on the CMC Council, and maintained a section of the MST. Stuart shared his appreciation of wine by selecting and serving the wine at CMC annual dinner meetings. Many of us will remember Stuart as a hiker's hiker. His love of the wilderness and passion for exploring obsolete trails were admirable, his energy and endurance enviable. He was always planning or executing trail projects or explorations, the latest completed June 13 with the connection of Mackey Creek Trail to Hickory Branch in Curtis Creek. We never heard Stuart own up to getting lost, but he did claim his "misadventures" as unique moments to reflect upon one's singularity with nature. During a quiet rest on a trail, somewhere far away from civilization, he would mumble "this is where I need to be". Eventually, he would gear up and charge impatiently down the trail to the next place he needed to be. See you on the trail, Stuart.
Tommie Boston, thanks to Tom Bindrim, Don Walton, Joanne Tulip
Remembering Stuart Tauber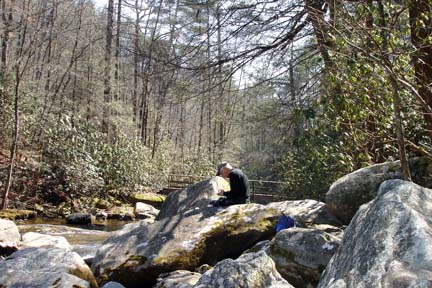 Stuart Tauber liked hikes that were tough, steep, long, and hiked them as fast as he could; which was faster than most.
There were few hike leaders in the Carolina Mountain Club who set a pace fast enough for Stuart. Most would let him go ahead. Indeed, he had been in the club a long time and there were not many trails he did not know. He was not likely to get lost. He was a throw back to a different time in the club, when more challenging hikes were attempted and the faint hearted did not apply.
He had satisfied the Pisgah 400 challenge and the SB6K, but he was not interested in recognition for it. When asked about it, he would often answer with a shake of the head, or a one word answer. He and his friend Joanne Tulip had backpacked the Benton MacKaye Trail, but you couldn't get him to talk about it. Stuart wasn't a talker; he was a walker. In the past few months, it was my great good fortune to get to know Stuart better than I ever thought I would. I was on several hikes with him, as well as a backpack that was horrendous for me, but another day in the woods for him.
When I first joined the club about five years ago, Stuart had little respect for my hiking ability. Of course I would never be able to remotely keep up with him. But as we were on more and more hikes together, and he realized that I probably was not going to have a major medical issue or die on a hike, he seemed to accept me. He even went on a hike that I led. This made me feel that I had arrived as a hike leader. He stayed behind me for most of a long climb until he inevitably said, "I hope I'm not bugging you walking so close behind you." I said "No, but you can go ahead." This was all he was waiting for. He passed me like I was standing still and was soon out of sight. That is the way I will always remember him: a thin figure growing smaller and smaller in the distance, disappearing around a bend, not to be seen again until somewhere much farther along the trail.
Stuart English - Photo by Stuart English
---
Adopt a Section of the MST
Richland Gap Access to Richland Balsam Access (3 Trees) 1.2 miles
Ox Creek Road to Bull Gap .8 miles
Balsam Gap Overlook to Rainbow Gap 2.4 miles
If you're interested in either the A.T. or MST, email Don Walton.
---
Maintenance Reports created by Don Walton
---
Fabric Softener Sheets to Keep Yellow Jackets Away
Fabric softener may keep yellow jackets away. You got nothing to lose by trying it. If nothing else it will make you smell better. My mail carrier told me that the US Postal service sent out a message to all letter carriers to put a sheet of Bounce in their uniform pockets to keep yellow-jackets away.
Don't wear yellow clothing they will think you are a big flower. Don't wear your expensive French Cologne for the same reason. Sent in by Barth Brooker
P.S. I am so concerned about yellow jackets in the fall, I may make a skirt out of fabric softener. Danny
---
The eNews comes out on Fridays. So ... The next issue will come out on Friday, September 4. Wednesday hike reports for the hike just before the eNews comes out will be published in the next eNews.
Hiker leaders, please send all your eNews hike reports and photos to Dave Wetmore at dwetmore@citcom.net
So send me your news and maintenance reports by Tuesday evening at 9 P.M. before the newsletter comes out, that is, by Tuesday evening September 1, 2009 to Danny Bernstein at danny@hikertohiker.com. Include your email address at the end of your story. Thank you.
The CMC Calendar is meant to answer the perennial question "When is this happening again?" It is also meant to prevent conflicts between competing CMC events. Please check it often.
How to join the Carolina Mountain Club
1. Go to www.carolinamtnclub.org
2. Click on "How to Join" (upper-left on web page)
3. Print out the "CMC Application Form"
4. Fill it Out, write a check for your dues and ...5. Mail to CMC, PO Box 68, Asheville NC 28802

For CMC members only - Send all address and email changes to Marcia Bromberg at mwbromberg@yahoo.com. Do not resubscribe yourself to the eNews. That will be done automatically.
If you are a non-member subscriber, you need to go back to the
CMC home page > News >Subscribe and change it there yourself.