From your editor
After we announced that CMC was on Facebook, our "fan" base jumped up tremendously and we continue to add new members. Members have been discussing hikes and the weather (of course), uploaded pictures of the trail situation and announced timely conservation items. It's one more way for hikers to communicate - and to fundraise. Read about the Appalachian Trail Conservancy's request for help using Facebook.
Join the conversation on the CMC Facebook page. Danny
---
What's Happening in the Next Two Weeks
The Appalachian Trail Conservancy Needs your Help!
First of all, for all of you that helped ATC meet (and exceed!) its end of year 2009 fund raising challenge – THANK YOU!
ATC also had another notable fund raising success at the end of 2009: We "won" $25,000 from Chase Community Giving through a Facebook voting campaign. 500,000 organizations competed for the two-phase prize. ATC was blessed to be one of the top 100 vote getters in the competition which resulted in the $25,000 donation.
The second phase is to compete through another Facebook voting campaign with the other 99 remaining contestants. If ATC gets the most votes, then we will receive a $1 million donation from Chase Community Giving!
The program we are seeking funds is Mother's Nature Keepers.

Each voter gets 5 votes they can spread around. However, we hope ATC supporters will only vote for ATC. So, I am writing to enlist the support of each of your A.T. club members to vote for ATC. The voting occurs only from Jan. 15 to Jan. 22, 2010.

HOW TO VOTE: voting instructions are posted on ATC's website at www.appalachiantrail.org/chase For those of you who do not currently use Facebook, there will be friendly instructions to walk you through the process.

You can also contact ATC's Director of Development, Royce Gibson, for help at rgibson@appalachiantrail.org Apparently, there are no other conservation/environmental organizations on the list.
Thanks VERY MUCH for your help! Morgan Sommerville
Regional Director for GA, NC, and TN Appalachian Trail Conservancy
---
Closings in the Great Smoky Mountains National Park
The Sinks Parking Area is closed for reconstruction. This will affect both sightseers and those who want to hike the Meigs Creek Trail. The target date for reopening is around May 10.
---
Activities at Diamond Brand Outdoors
Tuesday, January 26th, 7pm - 8 pm: Ice Climbing with Derek Turno Diamond Brand's paddlesports buyer, Derek Turno, will present an evening program on ice climbing. Derek has been ice climbing for 6 years and rock climbing for over 15 years. This is a great opportunity to learn about a winter sport rich in history and has developed a strong following in the southeast. Derek will discuss the essential gear needed for ice climbing, as well as techniques and the best spots to ice climb. He will also present a slide show from previous ice climbing trips. For more information, contact Gary at geblen@diamondbrand.com
Saturday, January 30th, 11 am: Kid's Craft Day
It's winter and the birds are hungry, so we're hosting a Kid's Craft Day where kids can make their own bird feeders using pine cones, peanut butter, bird seed and string. If you have any pine cones, please feel free to bring some. Kids of all ages and parents are welcome. For more information, contact Gary at geblen@diamondbrand.com..
---
CMC Position on the Future Route of the MST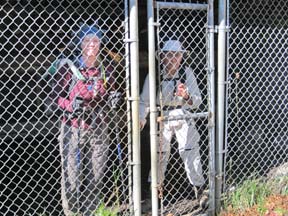 At the CMC Council meeting in August, 2009, the Council took the following position on building and maintaining the Mountains-to-Sea Trail.
CMC remains committed to building and maintaining the Mountains-to-Sea Trail (MST) from Heintooga Ridge Road at Wolf Laurel Gap (MP 458.2 on the Blue Ridge Parkway) to Black Mountain Campground east of Mount Mitchell.
The MST is complete in the Great Smoky Mountains National Park from Clingmans Dome to Mingus Mill.
Three routes are under discussion for connecting the two pieces of the MST.
Across the Qualla Boundary to the Oconaluftee River Trail to Mingus Mill.
On Blue Ridge Parkway land to the Oconaluftee River Trail to Mingus Mill.
From the current MST on Newton Bald Trail, along a series of existing trails in GSMNP to Polls Gap and on Heintooga Ridge Road.
CMC supports Option 3, using existing trails in GSMNP to complete the MST, as it offers the quickest and easiest way to complete the MST in our area. CMC will not commit to further trail building on the MST, should either Option 1 or Option 2 be chosen. Recorded by Lenny Bernstein
In the fall, 2009, Sharon McCarthy and Danny Bernstein walked a route suggested by the Smokies and found it delightful. See the exact route two ways - a listing of trails and on a Smokies map.
---
The Status of the Elk in North Carolina may be Changing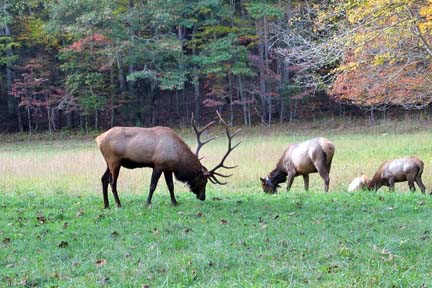 I don't usually look at the hunting and fishing regulations. I don't hunt or fish but I have no problems with people who do. But the new "Hunting, Fishing and Trapping" regulations came out. It's 24 pages of small print. The following was brought to my attention.
It concerns the elk population, mostly in the Great Smoky Mountains National Park. Read the whole story.
The deadline for commenting on this change is Jan. 22, 2009.
---
Meet the Carolina Mountain Land Conservancy
Carolina Mountain Land Conservancy's (CMLC) mission is to help landowners protect local land and water resources vital to our natural heritage and quality of life.

As a local nonprofit organization dedicated to saving the places you love, CMLC is helping to create a regional network of protected farm, forest, park and natural lands.

Read the complete article and get involved.
---
Adopt a Section of the A.T.
None at this time.
Adopt a Section of the MST
Old Bald Access to Richland Balsam Access, 4.4 miles, section maintainer needs an assistant
Richland Gap Access to Richland Balsam Access (3 Trees) 1.2 miles
If you're interested in either the A.T. or MST, email Don Walton.
Maintenance Reports created by Don Walton
---
Thanks to CMC Members
On December 30, my wife Alice and I were planning to hike at the Florence Nature Preserve. Unfortunately, there was ice, snow, and mud on Kelly Hill Road, and I managed to get the car stuck in the mud. We decided to walk down to Nita's Grocery, but Alice slipped and fell on the icy road breaking her right arm. Just as I was calling (which I probably should have done in the first place) Don Walton and an intrepid group of CMC hikers came driving up the road. It was really overwhelming to see how the CMC hikers responded quickly to the situation, lending their jackets, blankets and hats to keep her warm while we waited on the EMTs. They even pushed our car out of the mud! We wish we could thank each one personally, but do not have all the names. Alice will be recuperating for about six weeks, but there were no other serious injuries and no surgery will be required. We are proud to be members of CMC.
Charlie and Alice Brice brice@engr.sc.edualicebrice@bellsouth.net
---
The eNews comes out on Fridays. So ... The next issue will come out on Friday, January 29. Wednesday hike reports for the hike just before the eNews comes out will be published in the next eNews.
Hiker leaders, please send all your eNews hike reports and photos to Dave Wetmore at dwetmore@citcom.net
So send me your news and maintenance reports by Tuesday evening at 9 P.M. before the newsletter comes out, that is, by Tuesday evening January 26, 2010 to Danny Bernstein at danny@hikertohiker.com. Include your email address at the end of your story. Thank you.
The CMC Calendar is meant to answer the perennial question "When is this happening again?" It is also meant to prevent conflicts between competing CMC events. Please check it often.
How to join the Carolina Mountain Club
1. Go to www.carolinamtnclub.org
2. Click on "How to Join" (upper-left on web page)
3. Print out the "CMC Application Form"
4. Fill it Out, write a check for your dues and ...5. Mail to CMC, PO Box 68, Asheville NC 28802

For CMC members only - Send all address and email changes to Marcia Bromberg at mwbromberg@yahoo.com. Do not resubscribe yourself to the eNews. That will be done automatically.
If you are a non-member subscriber, you need to go back to the
CMC home page > News >Subscribe and change it there yourself.