From Your Editor
Dreaming of Spring
Hiking has not been easy this winter. Snow, ice, closed roads ... But now we can dream of spring. The hiking schedule for the second quarter is on the web http://www.carolinamtnclub.org/Hiking/hikemenu.htm.
Let's Go, our quarterly publication is also on the web at http://www.carolinamtnclub.org/LetsGo/newsletter2nd10.pdf. Check out the color pictures. Danny
---
What's Happening in the Next Two Weeks
Hiking in Rocky Mountains National Park - Tues., Mar. 9th, 7 p.m. at Diamond Brand Outdoors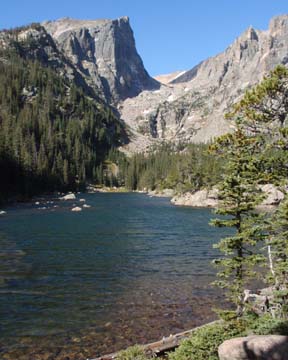 Longtime hiker and Carolina Mountain Club member Bruce Bente and fellow hikers went to Rocky Mountain National Park last fall.
The Park offers many opportunities for day hikes.
Bruce will share pictures and stories from his trip. This will be held at Diamond Brand Outdoors at 2623 Hendersonville Rd. in Arden.
---
CMC CPR Class Schedule for 2010
On Saturday, March 13, 2010, free CPR classes will be available at various locations around Western North Carolina. This is "CPR Saturday", an annual event sponsored by the WNC Red Cross.
The classes are at Transylvania Hospital, Pardee Hospital and various other sites. For more information on locations, and /or to register, call 828 693-5605. Spaces in the classes are on a first come/first served basis.
Attention Sawyers needing CPR training. CPR classes are being offered on the following dates in 2010:
April 3
July 17
November 6
These classes are through the CMC with Jim Spicer and Cindy McJunkin as the trainers. If interested, please contact Jim Spicer at js15@earthlink.net, Cindy McJunkin at Mcjfive@aol.com, or Nan Needs at Nanspath@aol.com.
---
Blue Ridge Heritage Slide Presentation at the Henderson County Library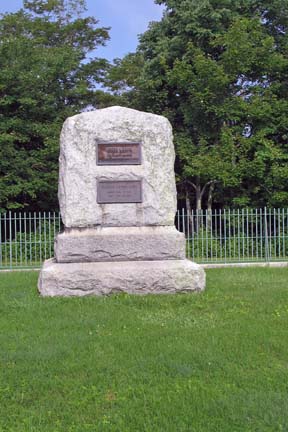 I will be presenting a slide show entitled Hiking North Carolina's Blue Ridge Heritage at the Henderson County Library on Thursday March 18 at 4 P.M.
For each book sold, Diamond Brand Outdoors will donate two dollars to one of their favorite charities - Muddy Sneakers.
The library is at 301 N Washington St Hendersonville (828-697-4725 for more details).
Come and find out who is buried under the gravestone in the picture. Danny Bernstein
---
CMC Weekend at Congaree National Park - April 16 to 18
Join CMC on a weekend to Congaree National Park south of Columbia, South Carolina April 16 to 18. In three hours of driving, you'll reach another world from the mountains. Look at http://www.nps.gov/cong
We'll canoe, hike and socialize. Free primitive camping in the park (not backpacking) is available in the park or you can stay in a motel a few miles away.
Please look at the details and sign up by sending me all the requested information. Space is limited. You must register by April 1.
Again, see http://www.hikertohiker.com/resources/cmc-congaree-national-park-weekend for details.
This is a CMC weekend and everyone must be a CMC member. Danny
---
CMC Spring Social - April 24
Sign up for the CMC Spring Social. Easy hikes, good food, musical entertainment and good conversation with our fello members. Look at all the details.
---
Appalachian Trail Biennial Conference Looking for Presentors
Share your knowledge and skills as a workshop presenter at the upcoming Virginia Journeys 2011 which will celebrate the Appalachian National Scenic Trail and the Blue Ridge Mountains of Virginia.
This gathering, to be held at Emory & Henry College in southwest Virginia from July 1 – 8, 2011, will be the 38th Biennial Conference of the Appalachian Trail Conservancy. A main feature of the conference is a wide variety of workshops which will be held Saturday – Monday, July 2 – 4, 2011. Conference organizers are inviting speakers to present sessions in the following areas of interest:
Hiking and Backpacking Skills
Trail Management
Natural Wonders
Engaging Youth on the Trail
Community Partners: Sustainable Tourism & the Trail
A.T. MEGA-Transect: Environmental Monitoring of the A.T. Corridor
Cultural History along the A.T.
Celebrating Benton MacKaye
If you would like to present a workshop related to any of the conference tracts, or would like to suggest a topic to be considered, we want to hear from you.
The deadline for speaker registration is June 30, 2010. Please contact Laura Belleville at lbelleville@appalachiantrail.org, 540-953-3564 / 3571, Ned Kuhns at nedkuhns@cox.net,
757-552-0292, or Mark Wenger at markwenger@cox.net, 757-253-0056.
---
Susanna Whitaker
Susanna (Susann, Suzy, Mary S.) Whitaker, a CMC hike leader, passed away suddenly on February 9 after a short illness.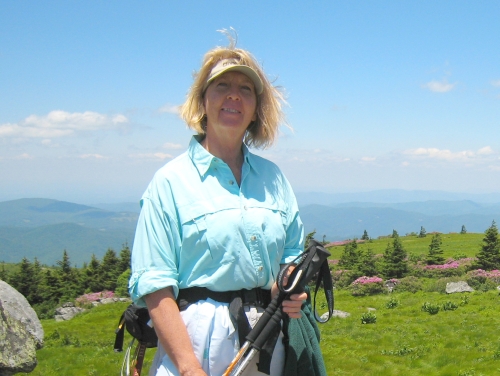 Susanna had hiked with the club since 2004 and led CMC hikes starting in 2005. Her life partner is Jerry Benson, the brother of Jeanie Danner, a CMC hiker.
She loved the outdoors, making extensive vegetable and fruit gardens and bees at home. She and Jerry worked to be as self-sufficient as possible in energy and food on their property at the base of Roan Mountain, one our favorite hiking destinations. She occasionally led small groups of friends on hikes on Roan Mountain using unmarked and hidden trails.
We weren't quite finished with her when she left and will miss her on the trail.
A spring memorial is being planned. Family and friends will be notified when plans are finalized. Charlie Ferguson.
---
Letter to the Editor
To the Editor:
I refer to the article in the last newsletter that attributes to me a quote about Smokies wilderness. I did not make the statement attributed to me. I was not asked any questions about wilderness and made no statement on the subject. Had I been asked (which I was not) I would have responded that wilderness was NOT feasible, and would not be until Swain County had been paid in full, ten years from now. Ted Snyder
Response:
I know and respect Ted Snyder as an ardent supporter of the Swain County financial settlement and
a great supporter of Great Smoky Mountains National Park. Snyder has been working on this issue for decades.
Saturday Feb. 6, 2010 was a very emotional day for many who have worked so hard on this issue.
In his letter to Mountain Xpress, he claims that same sentiment.
My notes clearly indicate that the quotes in my article are correct. Danny Bernstein
---
Meet the Western North Carolina Alliance
The Western North Carolina Alliance (WNCA) is a 28 year-old grassroots organization that empowers citizens to be advocates for livable communities and the natural environment of Western North Carolina.

Read more ...
---
Couple Completes South Beyond 6,000, Gets Engaged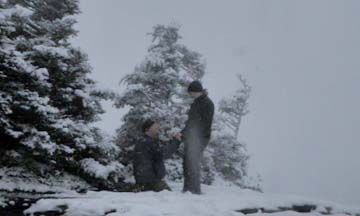 Congratulations to new CMC members Lee Harris and Kelly Maglio, of Atlanta, GA, who completed all forty peaks of the South Beyond 6,000 challenge atop Mt. LeConte on October 17, 2009.
To celebrate their accomplishment, Lee proposed marriage to Kelly near the summit. They are to be married in March and will soon pursue other CMC challenges as a married couple. Peter Barr
---
Adopt a Section of the A.T.
None at this time.
Adopt a Section of the MST
Richland Gap Access to Richland Balsam Access (3 Trees) 1.2 miles
If you're interested in either the A.T. or MST, email Don Walton.
Maintenance Reports created by Don Walton
---
Big Bend National Park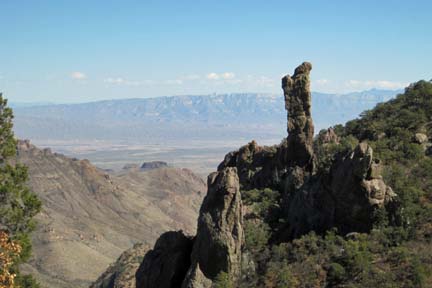 It's not easy to get to Big Bend National Park. I went on a Sierra Club Outing the last week of February.
Located in southwest Texas on the border with Mexico, the closest airport is 225 miles away in Midland-Odessa.
The Park has classic desert plants and temperatures - warm during the day and freezing at night. With three distinct sections - Chisos mountains, Rio Grande river and the desert - there's a wealth of hiking, scenery and birding.
The signature hike in the Chisos Mountains was the South Rim loop - 12 miles and 1,800 ft. ascent. The South Rim is considered one of the most scenic hikes of the Park but you could say that about any hike.
Read more on my blog, including my encounter with the Midland police. Danny
---
The eNews comes out on Fridays. So ... The next issue will come out on Friday, March 19. Wednesday hike reports for the hike just before the eNews comes out will be published in the next eNews.
Hiker leaders, please send all your eNews hike reports and photos to Dave Wetmore at dwetmore@citcom.net
So send me your news and maintenance reports by Tuesday evening at 9 P.M. before the newsletter comes out, that is, by Tuesday evening March 16 to Danny Bernstein at danny@hikertohiker.com. Include your email address at the end of your story. Thank you.
The CMC Calendar is meant to answer the perennial question "When is this happening again?" It is also meant to prevent conflicts between competing CMC events. Please check it often.
How to join the Carolina Mountain Club
1. Go to www.carolinamtnclub.org
2. Click on "How to Join" (upper-left on web page)
3. Print out the "CMC Application Form"
4. Fill it Out, write a check for your dues and ...5. Mail to CMC, PO Box 68, Asheville NC 28802

For CMC members only - Send all address and email changes to Marcia Bromberg at mwbromberg@yahoo.com. Do not resubscribe yourself to the eNews. That will be done automatically.
If you are a non-member subscriber, you need to go back to the
CMC home page > News >Subscribe and change it there yourself.