What's Happening in the Next Two Weeks
Help CMC Extend the MST West
This is your opportunity to give something back for all the fun and enjoyment you have had on the trails these past years. We hope to have a large group to help us extend the MST going south to Soco Gap.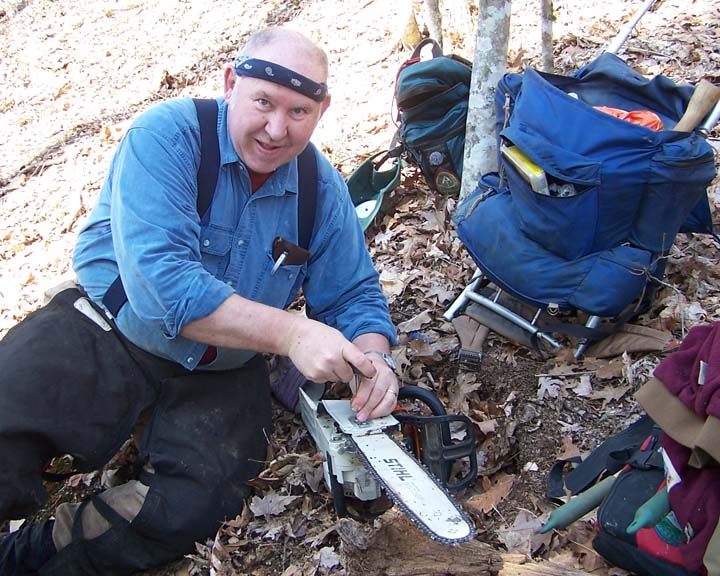 When: Saturday March 20

Meeting Place: Moose Café at 9:00 AM for car pooling
Or Soco Gap Overlook of the BRP at 9:30 A.M. ( intersection of Blue Ridge Parkway and Rt. 19 near Maggie Valley)
Tools will be available, but if you have digging tools of your own, please bring them.
Please call all your friends and acquaintances and invite them. The more hands the more fun!
Let's go to the High Mountains and start the new season with a bang!!!
Rain or Snow date - March 27. Piet Bodenhorst
---
CMC Weekend at Congaree National Park - April 16 to 18
Join CMC on a weekend to Congaree National Park south of Columbia, South Carolina April 16 to 18. In three hours of driving, you'll reach another world from the mountains. Look at http://www.nps.gov/cong
We'll canoe, hike and socialize. Free primitive camping in the park (not backpacking) is available in the park or you can stay in a motel a few miles away.
Please look at the details and sign up by sending me all the requested information. Space is limited. You must register by April 1.
Again, see http://www.hikertohiker.com/resources/cmc-congaree-national-park-weekend for details.
This is a CMC weekend and everyone must be a CMC member. Danny
---
CMC Spring Social - April 24
Sign up for the CMC Spring Social. Easy hikes, good food, musical entertainment and good conversation with our fello members. Look at all the details.
---
Map and Compass Course Offered
The biennial CMC Map Course will be held on Saturday, April 17th. It will be a one-day course, half classroom, half fieldwork. New this year will be the coverage of fundamental GPS techniques.
Whether you have a GPS unit or not, this course will give you basic map-reading skills and the techniques needed to stay found.
Enrollment will be limited to 12 people. To enroll or learn more about the course, contact the instructor, Dave Wetmore at dwetmore@citcom.net or 828-884-7296
---
Join Us at the SEFTC Regional Trail Conference May 20-23

You are invited to four days of learning, fun, and fellowship at the Southeastern Foot Trails Coalition's (SEFTC) General Conference to be held May 20-23 (Thursday – Sunday) at the DuBose Conference Center in Monteagle, Tennessee. Registration information is now available at the SEFTC website and also on that of many trail clubs in the Southeast.

This grand, biennial event will feature daily workshops and hikes for the Southeast's trail community. The DuBose Center is located about an hour northwest of Chattanooga, a mile off Interstate 24. Perched high on the Cumberland Plateau, it offers excellent housing options and numerous nearby hiking opportunities. Daily workshops will provide leaders in various fields present to educate the hiking community. Evenings will feature special events, such as a speaker and/or entertainment.

Registration has begun, with all checks made out to SEFTC and mailed to the registrar. There is a registration fee of $25, but those registering before April 1 will only be charged $20. The complete workshops and hikes list will be available in March, and posted to the SEFTC website and hiking clubs.

See SEFTC Conference registration form at: southeastfoottrails.org

---
Join the Great Smoky Mountains Association
CMC members has been invited to become members of the Great Smoky Mountains Association.

The Great Smoky Mountains Association is a non-profit co-operating association supporting the Great Smoky Mountains National Park since 1953. Last year GSMA gave back to the park $1.9 million in cash and in-kind services and we are planning on $2.0 million in 2010. We earn the money to donate to the park by selling park approved merchandise at the seven park bookstores in and around the park, publishing and selling Hiking Trails of the Smokies, a series of field guides of the Smokies, and many other publications, and through the sale of memberships.

The fourth edition of Hiking Trails of the Smokies (the beloved brown book) is now on the shelves.

Join the GSMA and get a discount on the trail guide.
---
Adopt a Section of the A.T.
None at this time.
Adopt a Section of the MST
Richland Gap Access to Richland Balsam Access (3 Trees) 1.2 miles
If you're interested in either the A.T. or MST, email Don Walton.
Maintenance Reports created by Don Walton
---
From the A.T.C. Facebook Page
Doris "Granny D" Haddock – who walked across the country at age 89 to raise attention for campaign finance reform and became a senate candidate at 94 – died recently at age 100. At the end of her cross country trek in 2000 she stopped by the A.T. Visitor Center in Harpers Ferry, WV and had her photo taken – a tradition for thru-hikers and section-hikers intent on finishing the A.T. Look at the details.
---
The eNews comes out on Fridays. So ... The next issue will come out on Friday, April 2. Wednesday hike reports for the hike just before the eNews comes out will be published in the next eNews.
Hiker leaders, please send all your eNews hike reports and photos to Dave Wetmore at dwetmore@citcom.net
So send me your news and maintenance reports by Tuesday evening at 9 P.M. before the newsletter comes out, that is, by Tuesday evening March 30 to Danny Bernstein at danny@hikertohiker.com. Include your email address at the end of your story. Thank you.
The CMC Calendar is meant to answer the perennial question "When is this happening again?" It is also meant to prevent conflicts between competing CMC events. Please check it often.
How to join the Carolina Mountain Club
1. Go to www.carolinamtnclub.org
2. Click on "How to Join" (upper-left on web page)
3. Print out the "CMC Application Form"
4. Fill it Out, write a check for your dues and ...5. Mail to CMC, PO Box 68, Asheville NC 28802

For CMC members only - Send all address and email changes to Marcia Bromberg at mwbromberg@yahoo.com. Do not resubscribe yourself to the eNews. That will be done automatically.
If you are a non-member subscriber, you need to go back to the
CMC home page > News >Subscribe and change it there yourself.