From Your Editor
Changes in the eNews
More changes in the eNews as we use more and more of the new website - now known as the current website.
Please send all hike reports and pictures to hikereports@carolinamountainclub.org This way, hike leaders won't have to worry about who is receiving the hike reports.
We are fortunate to have Kayah Gaydish now working on the hike reports and photos. Thank you Kayah!
---
Change in weekend hike meeting place for October
Due to weekend highway construction near Westgate through October, Asheville hike meeting locations for Saturday and Sunday hikes have been changed. Please check the hike schedule to verify the new meeting locations.

Wednesday hike locations will NOT be changed.
---
CMC dinner on Saturday Nov. 5
This year the CMC Annual Meeting and Dinner will be held in Asheville in the Century Room at Pack's Tavern (20 S. Spruce Street). Located next to the newly restored Pack Square Park, the Century Room offers views of the Park and the nearby mountains. Free parking is available in city parking lots located on Marjorie St. adjacent to the restaurant.
We are especially fortunate to have Charles Maynard, founder of the Friends of the Smokies, as our speaker. Mr. Maynard will entertain us with stories about the Smokies and the Appalachian Mountains.
The event will begin with a social hour at 5 PM (cash bar), a delicious dinner will follow at 6 PM ($27.50 per person), the annual meeting at 7, and our speaker to complete the evening.
The 4th Quarter issue of Let's Go includes a dinner/meeting registration form as well information about renewal for those members who have a calendar year membership.
If you need another dinner registration form, you can download it from here.
---
CMC North Georgia Weekend
Friday Sept. 30 to Sunday Oct. 2, we'll hike three North Georgia State Parks. If you can get a reservation at Unicoi State Park, you're welcome to join us. See all the details.
---
Join Us for a Celebration Honoring Appalachian Trail Speed Record Holder, Jennifer Pharr Davis!
Jennifer Pharr Davis, a CMC member, is now the fastest person on the A.T. She completed the Appalachian Trail in 46 days, 11 hours, and 20 minutes!
Diamond Brand Outdoors will celebrate this amazing feat with an evening of prizes, refreshments and discounts. The event will also feature a presentation by Jen and a question and answer session about her latest adventure on the A.T. She will be available to sign copies of her book Becoming Odyssa.
This event is free and open to the public. For more information, please contact Sarah Merrell at smerrell@diamondbrand.com
---
John Muir comes to Asheville and Waynesville
Lee Stetson as John Muir comes to Asheville on Friday October 14 and Haywood Community College in Waynesville on Saturday October 15 in his legendary role of Muir in a show entitled John Muir Among the Animals.
It's quite a coup to have Lee Stetson as the "voice of John Muir" in our area. He was featured in the recent Ken Burns PBS special The National Parks – America's Best Idea. He performs frequently in Yosemite National Park and across the country. Both performances will benefit worthwhile conservation groups.
On Saturday October 15, the program will be hosted by Friends of the Smokies. Proceeds from the evening will benefit Trails Forever and other Great Smoky Mountains National Park projects.
Park Superintendent Dale Ditmanson will be on hand to greet guests - that's worth the admission price by itself. Attendees will be treated to a dessert reception during intermission. See the Friends site for all information and how to get tickets.
On Friday October, 14, proceeeds will go to Western North Carolina Alliance. See their website for all information and how to get tickets.
---
Western North Carolina Hunting Season

It's time to get out your orange vests and hats. It's hunting season again.
Before you get too worried about hiking, remember that there's no hunting in national park units, state parks and very limited hunting in Dupont State Forest. So we're basically concerned about national forests. And there's no hunting on Sunday. All the details are at NC Wildlife Commission.
Western Bear Season (west of I-77)
Oct. 17 – Nov. 19
Dec. 12 – Jan. 2, 2012


Western Deer Season (west of I-77)
Archery Sept. 12 – Oct. 1 and Oct. 17 – Nov. 19
Muzzleloader: Oct. 3 – Oct. 15
Gun: Nov. 21 – Dec. 10

---
Friends of the MST hold a photo contest
Every CMC members has great pictures of the Mountains-to-Sea Trail. Whether you've walked 10 miles or 1,000 miles of the MST, consider entering the first ever MST photo contest.
North Carolina's annual October celebration of the Mountains-to-Sea Trail will include a photo contest open to professionals and amateurs.
"We have nearly 1,000 miles of photo opportunities," said Kate Dixon, executive director of the Friends of the Mountains-to-Sea Trail. "This is a great way for people to share their special trail experiences, have a little fun and maybe win a prize."
Photos must be submitted by October 31 in the categories of Views from the Trail and People on the Trail.
All the rules and regs are at http://www.ncmst.org/get-involved/photo-contest/
P.S. Governor Bev Perdue has declared October MST month. The proclamation mentions CMC by name. See the proclamation.
---
Diva Night Thursday, October 27th from 6 pm to 8 pm at Diamond Brand Outdoors
Diva Night is back and better than ever with a great Halloween theme and some great new additions! Come out for an exciting evening of discounts, prizes, give-aways and entertainment including live music by the Naughty Pillows and a Halloween themed Fashion Show featuring some of our new fall/winter clothing! Dinners will be sold for $5 each benefiting the Mission Hospital Ladies Night Out breast cancer awareness program This event is free and open to the public. For more information contact Sarah at smerrell@diamondbrand.com.
Fall Gear Swap, Saturday, October 29th from 10 am to 2 pm at Diamond Brand Outdoors
Want to find used gear at great a price? Do you have old gear you'd like to turn into cash? Then the Diamond Brand Fall Gear Swap is the place to be! Diamond Brand will be turning its parking lot into an outdoor flea market for buying and selling gently used gear. Purchase space to sell your gear either $15 in advance, or $20 the day of the event. All booth purchases will benefit Carolina Climbers Coalition. For more information, or to reserve a booth space, call our store at 828-684-6262. For more information contact Derek Turno at dturno@diamondbrand.com.
---
Sharon McCarthy finishes the Mountains-to-Sea Trail
Sharon writes about her experience:
The diversity of the Mountains-to-Sea Trail is astounding.
It takes hikers through or near many of the gems of the North Carolina mountains, including the Great Smoky Mountains, Middle Prong Wilderness, Linville Gorge, Table Rock, Grandfather Mountain, Stone Mountain, Hanging Rock.
In the Piedmont I hit the trail/road on a bike and enjoyed cruising through farmland and small towns. There are also long hiking trail systems around Greensboro and Falls Lake and in Croatan National Forest. And nothing can compare with the uniqueness of hiking on the Outer Banks beaches and walking up to the Hatteras Lighthouse. Each day on the trail was unique and memorable.
The highlights: Standing knee-deep in the middle of the Linville River with Danny, after extensive worry about water levels; water crossings in the Wilson Creek area; the Hatteras Lighthouse.
The challenges: Tackling a section west of Mt. Pisgah before the trail crews could clear it from the harsh winter of 2010 (much gratitude for difficult work of trail maintainers); a brief detour in Linville Gorge on a rainy, fogged-in day; spraying bug spray directly into my eyes and washing them out with Gatorade; dogs on the road (they chase bikes more than cars or pedestrians).
Section hiking a trail does not happen without enthusiastic and supportive partners. I would not have attempted this challenge without Danny Bernstein as a hiking partner and my husband, Jim, as a biking mentor/partner. Other friends and FMST members hiked/biked with me too. And I especially remember one wonderful meal that Lenny Bernstein had waiting for us after a long day on the trail! Guidebooks by Scot Ward and Walt Weber were essential and I would be lost right now without my North Carolina Gazetteer. Many thanks to everyone involved! Sharon (Smokyscout)
---
Nancy and Kent Wilson finish the New Hampshire 4000 footers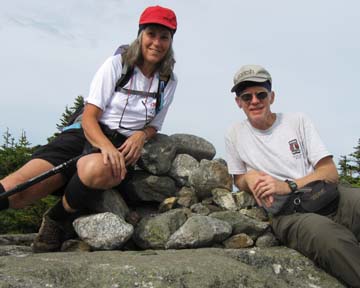 On our second trip along the A.T. in New Hampshire, a friend urged us to go up the side trails to bag the peaks.
Soon, it became addictive, as did the Southern 6000 footers a few years earlier. We were treated to rugged climbs, steep ladders, slides, wild streams and grand views on many trails. The words of Grandma Gatewood came to mind, "You will find your troubles all fading, and feel the Creator was not man, that made lovely mountains and forests, which only a Supreme Power can."
Our last hike was to Mt. Isolation - see picture. It took three years to complete it, due to high water levels on our first two attempts. There were 10 significant stream crossings. We backpacked in to Rocky Branch Shelter #2. It was sad to see a beautiful shelter with a roof in such disrepair due to the wilderness designation. Removal of shelters is causing stress on the sensitive campsite areas, thus making a larger impact on the pristine area, than did the shelter.
The next morning we climbed up to the Davis Path, then took a short spur up to Mt. Isolation on a gorgeous day. We had great views of Mt. Washington and the other mountains in the Presidential Range. What a fitting end to our quest of the 48 in New Hampshire. Now on to finish the 67 4000 footers in New England! Nancy & Kent Wilson
---
Jennifer Davis finished the Appalachian Trail in record time.
Congratulations to Jennifer Davis for setting a record on the Appalachian Trail.
Read about her amazing adventure on her blog.
---
Sawako Jaeger completes the SB6K
Sawako climbed all the mountains higher than 6,000 ft. in the South, the South Beyond 6000. Her last hike was Winterstar. There are 40 mountains over 6,000 feet in Western North Carolina and eastern Tennessee.
Congratulations Sawako!

---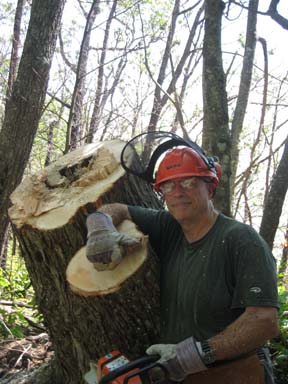 Remembering John Soldati
John Soldati, 70, of Hendersonville passed away Friday, August 12, 2011, after a short illness.
A 1963 graduate from Pfeiffer College and a former captain in the U.S. Marine Corps, John served a one-year tour of duty in Vietnam during the war. After resigning his commission, he began a 30-year career in the banking industry until his retirement in 1995. For most of his career he was involved with the corporate trust operation divisions of First Union and Nations Bank.
See the whole obituary written by fellow maintainer Don Christiansen.
---
From Tim Carrigan, CMC A.T. trail supervisor
I'm amazed at the weed growth this season. Anyone who has trail areas where the sun and rain is abundant might want to visit their section very soon if it's been more than six weeks.
MST sections for adoption
1. Doubletop to Old Bald access - Length is 1.1 miles

2. Richland Gap Access to Richland Balsam Access ( Three trees) - 1.2 miles
3. Bear Pen Gap Access to Haywood Gap - 2 miles
If you're interested, contact Larry Sobil at lsobil@bellsouth.net
A.T. sections for adoption
2220AT, Spring Mountain to Allen Gap, 3.7 miles
2155AT, Deer Park Shelter to Hot Springs (Caboose), 3.2 miles
Contact: Tim Carrigan, (828) 398-4211 before 5:00 PM
or email ATsupervisor@carolinamountainclub.org
---
The eNews comes out on the last Friday of the month- most of the time.
So ... the next issue will come out on Friday, October 28. Wednesday hike reports for the hike just before the eNews comes out will be published in the next eNews.
Hiker leaders, please send all your eNews hike reports and photos to hikereports@carolinamountainclub.org
So send me your news, maintenance and hike reports by Tuesday evening at 9 P.M. before the newsletter comes out, that is, by Tuesday evening October 25 to Danny Bernstein at danny@hikertohiker.com. Include your email address at the end of your story. Thank you.
The CMC Calendar is meant to answer the perennial question "When is this happening again?" It is also meant to prevent conflicts between competing CMC events. Please check it often.
Westgate parking - Park in the northernmost part of the lot - past EarthFare, in the last row of parking spaces.
How to join the Carolina Mountain Club
1. Go to www.carolinamountainclub.org
2. Click on "Join CMC" on the right side and follow the instructions

For CMC members only - Send all address and email changes to Gale O'Neal at gogalemail@gmail.com. Do not resubscribe yourself to the eNews. That will be done automatically.
If you are a non-member subscriber, you need to go back to the
CMC home page and click on eNews and make the change yourself.