Please send me your hiking news, hike and maintenance reports by Monday evening at 9 P.M. before the newsletter comes out, that is, by Monday evening June 4, 2007 to Danny Bernstein danny@hikertohiker.com. Include your email address at the end of your story. Thank you.
The CMC Calendar is meant to answer the perennial question "When is this happening again?" It is also meant to prevent conflicts between competing CMC events. Please check it often.
How to join the Carolina Mountain Club
1. Go to www.carolinamtnclub.org
2. Click on "How to Join" (upper-left on web page)
3. Print out the "CMC Application Form"
4. Fill it Out, write a check for your dues and ...5. Mail to CMC, PO Box 68, Asheville NC 28802

For CMC members only - Send all address and email changes to Jean Gard at jeangard@charter.net. If you are a non-member subscriber, you need to go back into "subscribe" and change it there yourself.
What's Happening in the Next Two Weeks
National Trails Day!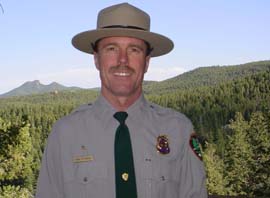 Celebrate National Trails Day by hiking in the Little Cataloochee Valley. Kevin FitzGerald, Deputy Superintendent of the Great Smoky Mountains National Park, will be hiking with us. Choose from an easy half-day hike or a challenging climb. See the hike page for the hike details. Diamond Brand Outdoors is supporting our efforts by donating maps and energy bars.
---------------------- Back to Top
Chimney Rock sale completed
Compiled by Mark Barrett of the Asheville Citizen-Times published May 22, 2007 12:15 am
RALEIGH — Gov. Mike Easley announced Monday that North Carolina has closed on the $24 million purchase of Chimney Rock Park, adding it to a new state park under development in the Hickory Nut Gorge.
Advertisement

Easley announced the state's intention in January to buy the park from the Morse family, funded with a $15
million appropriation from the General Assembly, $4.85 million from three state conservation trust funds and
$2.35 million from a private donor. The Division of Parks and Recreation will continue land acquisition efforts and develop a master plan for the larger state park that encompasses Chimney Rock. The larger park is now more than 3,200 acres spanning both sides of the gorge.
---------------------- Back to Top
Trailfest attracts new trail maintainers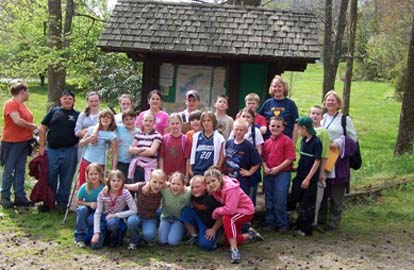 Chip Miller had his hands full on April 27th, the Friday of Trailfest in Hot Springs, with 30 new trail maintainers helping with his section of Trail. Just below the Hot Springs School, a small portion of Trail was adopted by the school as a way to adapt service-learning and place-based education into their curriculum. The fourth grade students were tremendously excited with the work they were doing, cutting back exotic/invasive plants such as privet and honeysuckle. Because of the storm in early April, this year's growth hasn't started to make its way into Trail's tread yet, so the group finished their work early and took off on a hike heading south. Many were disappointed to learn that they weren't anywhere near Georgia as they turned back towards school at the end of their hike (about ¾ of a mile in). Thank you to Howard McDonald and Chip Miller for their time and support in engaging the students. I hope to get the fourth and fifth grades to Max Patch for another service day in the fall--- Julie Judkins, ATC. jjudkins@appalachiantrail.org

---------------------- Back to Top

Hut to Hut in New Hampshire

I would like to invite my friends in the CMC to join me and other Sierra Club members for a week of hiking in the White Mountains of New Hampshire. In addition to the Wyoming backpacking trip that I am assisting on, which is full, I will be assisting on a Hut to Hut trip along the Appalachian Trail on September 16th thru 22nd. Enjoy one of the most challenging sections on the AT and its most comfortable lodging at the same time. We will also day hike to the summit of Mt. Washington. Check out the trip brochure at http://www.sierraclub.org/outings/national/brochure/07212A.asp
Feel free to call me at 828-738-0751 or email me at jimr57@yahoo.com if you have any questions about the trip. Jim Reel

---------------------- Back to Top

Paula Robbins book signing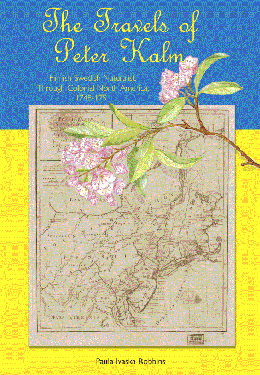 Members of the Carolina Mountain Club are invited to attend a reception at The Captain's Bookshelf, 31 Page Avenue (across from the Grove Arcade), Friday evening, June 15, from 5:30 to 7 PM, with signing of copies of Paula Robbins's new book The Travels of Peter Kalm, Finnish-Swedish Naturalist, Through Colonial North America, 1746-1751.
See http://www.catskill.net/purple/kalm.htm.
---------------------- Back to Top
Hike scheduler needed
CMC has an immediate opening for someone to schedule the Sunday afternoon hikes, obtain leaders, and write the descriptions for the four quarterly issues of Let's Go. Computer skills and ability to work with Word are required. The scheduler also is responsible for providing leaders with sign-up sheets and filing the completed ones. The scheduling task is vital to the Club and gives the scheduler a chance to expand his/her friendships and learn about the many hikes in our area.
We ask anyone interested in this project to contact either Paula Robbins (paularww@bellsouth.net, 281-3253) or Bruce Bente (bbente@bellsouth.net, 692-0116).
---------------------- Back to Top
Kephart cabin found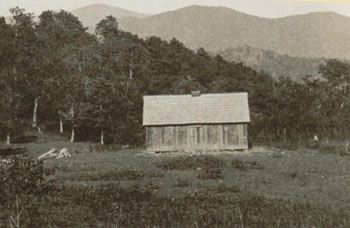 Remains of the foundation of the historic Hall cabin where Horace Kephart stayed were just discovered by park archaeologist, Erik Kreusch during a study for the revamping of the Derrick Knob Shelter on the Appalachian Trail.
The photo above is a 1919 view from the collection of Harvey Broome.
Kephart told wonderful stories of stormy nights spent in remote places like the Hall cabin in his famous book Our Southern Highlanders.
(from the Great Smoky Mountain Association, May 2007)
---------------------- Back to Top
Five guys in Spain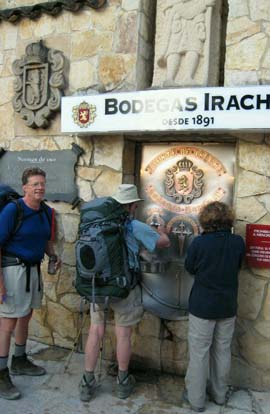 We just finished dinner with friends from other countries. This after a little wine party on the patio of a private hostel in Sarria. We have had some great weather, sunny skies with temps in the upper 70´s with light winds. After a 14 mile hike on Monday from Villafranca de Bierzo we did a 17-18 mile hike with over 2,200 ft elevation climb on Tuesday to the town of Cebreiro which is on top of a mountain. Wednesday on a cold foggy morning we hiked another 14 miles to Tricastela. Today, we put on an other 14 miles with beautiful weather to Sarria.
I personally have had many great experiences. Beautiful countryside with a number of small villages including passing through farms and sidestepping cow pies! Today as I was walking along I heard this voice singing. I came upon a shepard laying in the grass singing while his dog was tending the sheep. He sensed that someone was there and sat up and looked at me and started singing again. I listened for several minutes, give him the thumbs up sign and went on my way. What a delightful experience! This is what a great part of this trip has been for me. Love to all, Carroll
What are these people doing?
Read all about it on the CMC message board. The start of the message thread is on the CMC website at :http://www.carolinamtnclub.com/forums/forums/thread-view.asp?tid=18&posts=2&start=1

---------------------- Back to Top
Photo contest announced
Enter the CMC photo contest. See all the details.
---------------------- Back to Top
Curtis Holladay of Fairview and a 10-year member of the club died April 28, after a long illness. Curt was a stalwart regular on the Friday Maintenance Crew and was an enthusiastic active hike leader until he was no longer able to continue. He said he joined the club originally in 1996 to get himself in shape for the Appalachian Trail, which he completed in one season some time after that. He was a cheerful good friend to many of us and will be missed. -- Gerry McNabb
---------------------- Back to Top
Adopt a piece of the A.T.
It is not often that a piece of the A.T. comes up for adoption. Maintaining a piece of the A.T. is an honor which any hiker in the world can appreciate. So don't delay if you want this one.
The Hurricane Gap to Spring Mountain Shelter section of the AT needs a new Section Maintainer. It is 1.7 miles long with about 570 feet elevation difference. All down hill going back to your car! Contact Howard McDonald if you are interested at hamcdonald@cytechcis.net or 828-693-8258.
---------------------- Back to Top
Adopt an MST Section
The following sections of the Mountains to Sea Trail are available for adoption:
1. FS Road 816 to Dark Prong Gap(1.6 miles)
2. Haywood Gap to green Mountain Trail Junction (3 miles)
3. Green Mountain Trail Junction to NC 215 (4 miles)
These are all beautiful sections that provide great personal satisfaction in caring for them. Contact Don Walton at donwalton@bellsouth.net or 654-9904.
---------------------- Back to Top
Maintenance Reports created by Don Walton
---------------------- Back to Top
From Amy Treverton
As many of you know I had to have a total hip replacement on Tuesday, May 15. It's because of all the hiking I did, I'm sure!! Anyway, I got to come home yesterday and hopefully I will regain all my strength quickly as I was in fairly good condition (other than the hip!) before surgery.
Physical therapy is coming out 3 times a week for about 3 weeks just to make sure I am progressing as I should. I feel pretty good but it is frustrating to have to move so slow with a walker. If anyone wants to come by for a visit after a hike or anytime I will be here as I can't go back to work for 4 to 6 weeks. Hope to see you all on the trail soon. Love to all! Amy athikerbabe@yahoo.com
---------------------- Back to Top