From Your Editor
It's spring flower season. I'd like to feature flower pictures and see the changes as the season progresses. Please send me your wildflower pictures and where you saw them. Danny
What's Happening in the Next Two Weeks
CMC Spring Picnic Saturday April 25
Have you registered for the CMC Spring Picnic on Saturday April 25?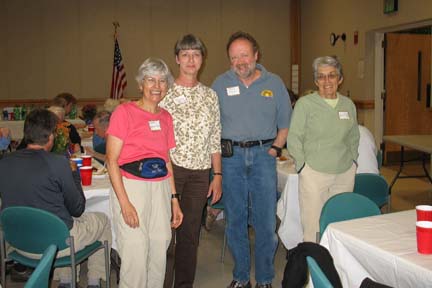 Hikes, food, friendship and a great slide show are promised and you get into the NC Arboretum as part of the package. You all received an insert with your Let's Go. Please fill it out and send a check to reserve your spot. For more information, contact Les Love. (The above picture is from the 2008 Social.)
---------------------- Back to Top
CMC Policy on Member Contact Information
Because of several concerns that have been brought to my attention during the last year, I think a quick review of our practice in regards to use of CMC member contact information is in order.
It is the policy and practice of CMC that all member contact information collected by the Club and by leaders of the Club in their Club functions shall be used for Club business only, unless they have the permission of the person(s) involved. It means that members should not use our membership database for any group use except Club business. It means that Council members, committee chairs, hike leaders and maintenance crew leaders should not use their group email lists for anything except Club business. In rare cases the Council may authorize other partner groups, such as the Appalachian Trail Conservancy, to use our mailing list if it deems this to be a benefit to our Club members, and is confident that the information will be held confidential. In these cases the membership will be informed of the Council's plans and given the opportunity to have their names removed from the list before it is shared with the partner organization. It is important that we work together to respect all of our rights to control our privacy and our right to not be spammed or contacted by members for reasons that may seem to be an abuse of this policy. If you are a leader in the Club and you think that some of the people who work with you may not see this Enews message, please copy it and send it to them. This IS CMC business!
Thanks for taking time to review this policy. Send questions and comments to Becky Smucker at bjsmucker@gmail.com .
---------------------- Back to Top
Are You 62 Years Old?
Then you can get an America the Beautiful – National Parks and Federal Recreational Lands Pass for $10.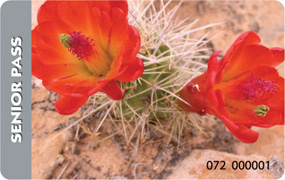 It replaces the Golden Age Pass. This is a lifetime pass for U.S. citizens or permanent residents age 62 or over. The pass provides access to, and use of, Federal recreation sites that charge an Entrance or Standard Amenity.
The pass admits the pass holder and passengers in a non-commercial vehicle at per vehicle fee areas and pass holder + 3 adults, not to exceed 4 adults, at per person fee areas (children under 16 are admitted free). The pass can only be obtained in person at the park.
In Western North Carolina, where you can visit forests and parks for free, the best place to get this pass is at the Cradle of Forestry in Pisgah National Forest.
---------------------- Back to Top
The Armchair Birder Comes to Town

On Sunday, April 26, 2009, 3:00 p.m., author and birding enthusiast John Yow will present his book THE ARMCHAIR BIRDER at Malaprop's Bookstore/Cafe, 55 Haywood Street in downtown Asheville. Yow has written a collection of 35 essays that explore the secret lives of familiar birds and offers his own observations alongside those of noted naturalists Arthur Bent and John James Audubon. This event is free and open to the public, and we invite all area birders, would-be birders, and outdoor enthusiasts to help us welcome John Yow.
---------------------- Back to Top
We Get Letters
Referring to How Not to Backpack by Stuart English
Thanks for the reminder that backpacking is not like falling off a log, unless of course you do that, too. It sounds as though you might have been at risk of hypothermia, although apparently you had some backup clothing that helped you avoid that hazard.
I was wondering if your friends might consider a trip leadership course (does CMC run any?) to increase the likelihood of helping those with less experience to safely enjoy a backpacking trip (or any hike). It's nice to lend equipment, but a successful trip usually requires using the equipment wisely, not to mention making sure that the equipment, e.g. the headlight, is actually packed. The safety of the whole group can actually be compromised by one member missing an important piece of equipment. Also, adjustment to trip plans in response to changed circumstances, e.g. a late start, is often a wise move.
Sixty is not the ideal age to take up backpacking or even day- hiking, but being of that age will make it more likely that you will do so with close attention and a sense of judgment not always exhibited by younger people. If your limbs and wind are still reasonably sound (at 69, I have a number of orthopedic challenges), you can probably find enjoyment. I hope more active CMC members can point you in the right directions.
Incidentally, in decades past, my wife and I enjoyed a number of extended backpacking trips to the Carolina and Tennessee Blue Ridge area, often with the assistance of CMC hiking information guides and on one memorable occasion, with CMC members on a trip which we accidentally encountered. We were particularly indebted for information and assistance from the late Alan Barton, with whom we were put into contact by a mutual acquaintance here in Newton.
Thanks for so reliably providing the eNews, which I cherish as a connection with a region and an organization that my wife and I have deep affection for. Regards, John Bliss, Newton, Mass.
And Stuart responds:
Iím glad you enjoyed the article and it provoked a response from you. This definitely was not a CMC sponsored event, but just a private trip organized by individuals. I claim all responsibility for my experience during the trip. I wrote the article not only to entertain, but as a cautionary tale for anyone considering a similar venture. I will backpack again. But not only will I be better prepared, but it will be on my own terms and not someone elseís. It was a learning experience. Two of the people involved called me the next morning and said they were glad they had cut the trip short. Stuart English
---------------------- Back to Top
Experience Hiking in Rocky Mountain National Park
A week long trip to Rocky Mtns. National Park in Colorado is being planned by CMC members. The proposed dates are September 13-20, 2009 - note new dates.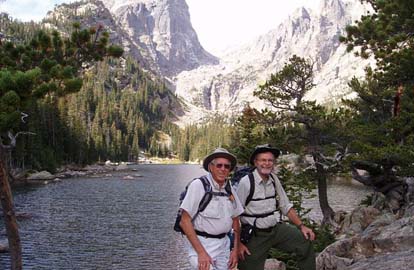 This trip is based on a similar superb trip organized by Jack Fitzgerald in 2006 that was enjoyed by all who participated.
On the 2006 trip, we enjoyed the beauty of the golden aspen trees, hiking in snow at the higher elevations, moose on the trail and watching herds of elk in the park and Estes Park itself.
We plan to do dayhikes from several different trailheads in RMNP to fully experience this beautiful park and return to our lodge each evening (the lodge we have in mind has a large hot tub in a separate building with a view of the mountains). A complete hike list will be provided when you contact Kathleen. Many hikes are of the A-A level with some B-B or B-C options depending on what the participants would like. Some hikes will take advantage of RMNP's bus shuttle system. Depending on the number of hikers on the trip, there may be a choice of hikes each day and the option of splitting into groups depending on the challenge level desired. Most of these hikes start above 9,000 feet.
We will set rooms aside at a lodge a few miles west of Estes Park, CO with discounted pricing and arrange for the rental of vans to transport us for the week. The air travel will be the responsibility of the individual. Contact Kathleen Hudson at mstish1325@gmail.com for more information. This trip is limited to 20 people. If you are interested, please contact Kathleen as soon as possible.
---------------------- Back to Top
First Aid Kit lists and Suggestions
At the Hike Leaders Meeting, Cindy McJunkin discussed first aid kits for hikers. Here's what she said:
There isn't one all-purpose medical kit that will work for everyone in all situations. There are many variables to consider when packing a kit. Think about the type of activity, the group size, distance, time you expect your trip to take, and the availability of evacuation.
Look at her discussion and list of first aid items.
---------------------- Back to Top

We Get Photos!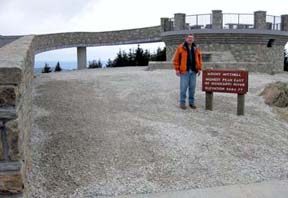 Tom Campbell sent in this picture of the new Mt. Mitchell State Park tower.
It looks like the Clingmans Dome tower without the 500 ft. walk up.
---------------------- Back to Top
Sharon McCarthy Finishes the Smokies 900
Sharon, a CMC member from Charlotte, finished all the trails in the Smokies in a year, while raising money for the Girl Scouts. Several other CMC members were with her at her start and on last hike. She writes:
It has been a very long/short year hiking the Smokies and I simply could not have done it without the help of my hiking friends.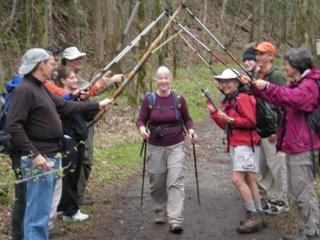 We have seen sunrises and sunsets, waterfalls, lots of animal poop, bees and bears, deer and elk, rain, fog and lots of sunshine, spring and summer's flowers and winter's icicles and frosty breath, sweltering days and hot nights with no showers. We have slept in campsites, cabins, shelters and hotel rooms (and one abandoned house).
We have crossed dry creek beds and raging rivers. We have lost cameras and hiking poles and occasionally our minds. We have eaten energy bars, ramen noodles and pizza, drunk a lot of water and the occasional flavored libation that goes along with backpacking. We have hiked loops and driven shuttles, made plans and changed them. We have been energetic in the morning and worn out at the end of the day. Each and every hike has been special to me. Your encouragement, good thoughts, flexibility, advice and footsteps alongside me have supported me through the miles and made this journey a highlight of my life. My wish for you is to experience the joy that you have helped make possible for me.
"Thank you" seems inadequate, but I do thank you very sincerely. Sharon McCarthy
---------------------- Back to Top
Adopt a Section of the Appalachian Trail
None. Get on the waiting list.
Adopt a Section of the MST
Devil's Courthouse Jct. to FS Road 816, 2.4 miles
If you're interested in either the A.T. or MST, email Don Walton.
---------------------- Back to Top
Maintenance Reports created by Don Walton
---------------------- Back to Top
To the March 18th Hiking Group and CMC
I wanted to thank everyone on the Wednesday Ferrin Knob hike that helped me on the trail. I barely remember most of it, but I obviously received the perfect attention when I fell and broke my wrist.
Keiko, thank you for your expert help. I am certain that you made my walk out of the woods completely comfortable by stabilizing my wrist and arm. Thank you to everyone who managed to have valuable first aid supplies at the ready. Ruth, thank you for sticking by my side as I went to the emergency room. I hope to see everyone out on the trail again soon. I cannot express enough how wonderful it was to have such a kind-hearted group of people at my side when I needed them most. All my best, Laura J. Bryant
---------------------- Back to Top
The eNews comes out on Fridays. So ... The next issue will come out on Friday, May 1. Wednesday hike reports for the hike just before the eNews comes out will be published in the next eNews.
Hiker leaders, please send all your eNews hike reports and photos to Dave Wetmore at dwetmore@citcom.net
So send me your news and maintenance reports by Tuesday evening at 9 P.M. before the newsletter comes out, that is, by Tuesday evening April 28, 2009 to Danny Bernstein at danny@hikertohiker.com. Include your email address at the end of your story. Thank you.
The CMC Calendar is meant to answer the perennial question "When is this happening again?" It is also meant to prevent conflicts between competing CMC events. Please check it often.
How to join the Carolina Mountain Club
1. Go to www.carolinamtnclub.org
2. Click on "How to Join" (upper-left on web page)
3. Print out the "CMC Application Form"
4. Fill it Out, write a check for your dues and ...5. Mail to CMC, PO Box 68, Asheville NC 28802

For CMC members only - Send all address and email changes to Marcia Bromberg at mwbromberg@yahoo.com. Do not resubscribe yourself to the eNews. That will be done automatically.
If you are a non-member subscriber, you need to go back to the CMC home page > News >Subscribe and change it there yourself.
---------------------- Back to Top