From Your Editor
I'm fast approaching five years as editor of the CMC e-Newsletter. And though I enjoy it, I want to give someone else a chance at this great volunteer job. Anyone interested? It's writing, computing, conservation and keeping up with outdoor news, all in one. Let me know. Danny
---
What's Happening in the Next Three Weeks
GPS Course on May 15
A GPS course will be held on Saturday May 15 from 9 A.M. to 12 P.M.
The course is not device- or brand-specific; but will make you a more intelligent and efficient GPS user. If you are contemplating buying a GPS, this course will help you avoid unwise decisions.
After a couple of hours in the classroom we will go outside and do some exercises. For further information and to register, please email Dave Wetmore at dwetmore@citcom.net before May 8th.
---
North Carolina's Ten Natural Wonders
Land for Tomorrow is launching a contest today to determine "North Carolina's Ten Natural Wonders," meant to draw attention to conservation successes and the need for continued commitment to conservation. Individuals can learn more through the Land for Tomorrow Facebook Page at www.facebook.com/L4TNC or www.landfortomorrow.org.
From the mountains to the coast, hikers, hunters, boaters, fishermen and beachcombers often debate which natural area of the state they feel is the best. Land for Tomorrow is taking that debate online with the "North Carolina's Ten Natural Wonders" competition. An expert panel of local celebrities, conservation experts and outdoor champions have joined the effort to settle the debate - what are North Carolina's greatest natural wonders?
North Carolinians are encouraged to nominate any landscape, natural feature, wildlife or plant life that is unique to North Carolina and should be considered among the state's greatest natural wonders.
The general public will have until May 6th to nominate their favorite North Carolina natural wonders for consideration in the competition. Then, our expert panel will narrow down the nominations to a group of finalists. A final popular vote online will determine "North Carolina's Ten Natural Wonders."
---
Spring Social went off very well!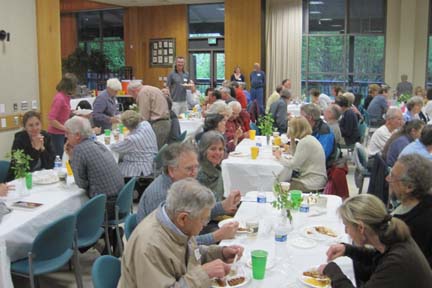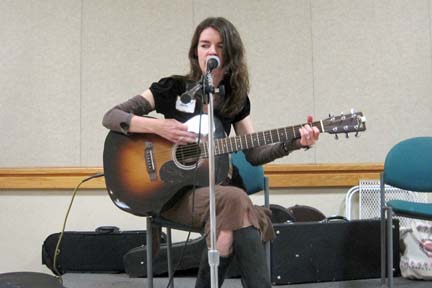 Over 115 people signed up for the 2010 CMC Spring Social held at the North Carolina Arboretum. Rain didn't deter the attendance or the five-mile hike.
After a great barbecue dinner, we had entertainment from Angela Faye Martin, a CMC member and a professional folk-rock musician (shown on right). Karen Bartlett and her band played great bluegrass. Les Love, who has organized the Spring Picnic since its inception, said, "We'll continue to do the picnic as long as the attendance is up.".
---
Learn about invasive plants along the Appalachian Trail
Informational Workshops taught by expert instructors will discuss the problem of invasive exotic plants, threats to native biodiversity, identification of 12 to 15 plants of particular concern, and management techniques used along the Appalachian Trail. See the detailsIE Workshop Flyer-Spring 2010.pdf on the workshops.
---
CMC Members off to Hike in Switzerland

The 4 CMC European hiker-pilgrims are at it again.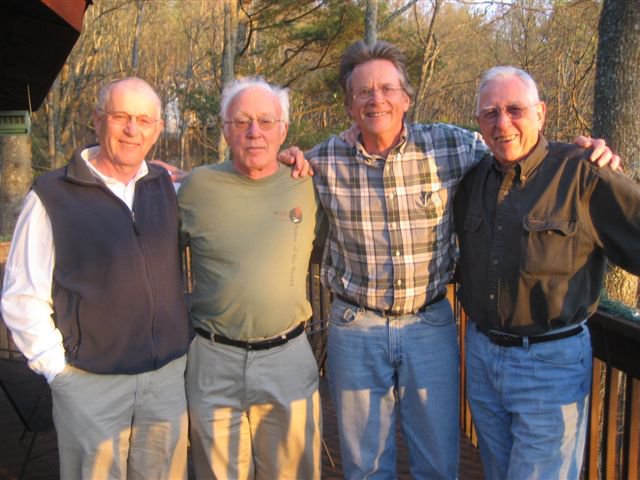 Don Walton, Tom Sanders, Jay Bretz and Carroll Koepplinger are leaving for Zurich on May 4 to begin a trek across Switzerland on the Jakobsweg, the Swiss section of the Camino de Santiago.
The route begins in Northeast Switzerland at the town of Rorschach near the German and Austrian border and runs about 320 miles west to Geneva. Historically traversed by pilgrims from Switzerland, Austria and Germany going to Santiago de Compostela in Spain, the route follows a series of lakes that stretch across the country rather than Alpine highlands.

Virtually hike the Jacobsweg trail with us in Switzerland on Facebook at: http://www.facebook.com/#!/group.php?gid=365312627375&ref=ts
---
Bill and Ginger Dora Finish the SB6K
Bill and I finished hiking our 40th over 6000 on Mark's Knob on Wednesday April 21.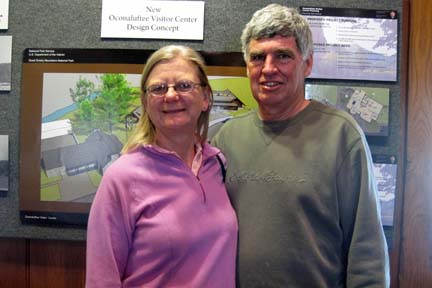 After the rain, it was a little damp in there but ok. We have enjoyed hiking in the different areas. We are thrilled to have completed our goal. We are members of the ADK 46ers, the NH 4000 ft club, the New England 64 and The North East 111 club, having hiked all the qualifying mountains.
We are natives of Saranac Lake NY, the heart of the Adirondacks. Bill is retired from the Dept. of Environmental Conservation where he was an engineer and I am a retired teacher and artist. We are looking forward to our next hiking adventure whatever it may be. Ginger (and Bill) Dora
Ginger and Bill stopped by the Oconaluftee Visitor Center where I volunteer on Mondays. Danny
---
Jim Thompson, The Other Smokies Photographer
by Mike Knies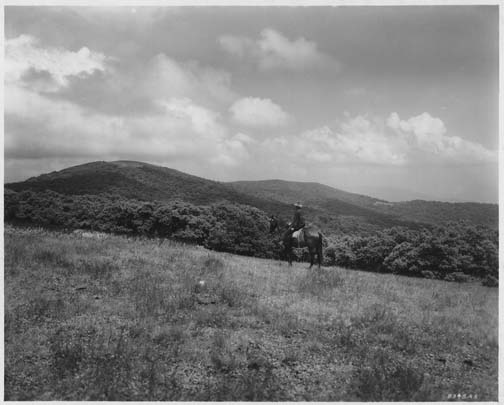 He never got a knob or ridge named for him and is not even mentioned in the Ken Burns documentary like George Masa but Jim Thompson of Thompson Studios in Knoxville was probably just as influential if not more so in the development of the Great Smoky Mountains National Park.
In 1924 his photographs were instrumental in making the decision to create the park.
When the Southern Appalachian National Park Committee was formed to consider a southern national park, it was tilting toward Grandfather Mountain. In 1924 Knoxvillians journeyed to Asheville to make their presentation for the Smokies.
Thompson had been taking pictures of the mountains for at least ten years and had inherited his love of the mountains from his father who started the family photography business in 1902.
David Chapman (Mt. Chapman) told him to bring all the pictures he could. The Committee members were so impressed by the pictures they thought they might be fakes and said they had to go see these places for themselves. The rest was history as they say. Carlos Campbell, an icon of the Smoky Mountains National Park movement, said that without those magnificent photos the park might well never have been.
I became a fan of Thompson before knowing all that history because so many of his pictures of the Smokies had been enlarged, hand painted in color, framed and then hung in prominent places all over Knoxville and upper East Tennessee. Particularly I remember at least a dozen that adorned the restaurant and walls of the Mountain View Hotel in Gatlinburg until it was closed about 1982.
Recently a project to digitize the immense collection of Thompson Photos was completed and it is now available for viewing courtesy of the University of Tennessee at the following site, http://dlc.lib.utk.edu/thompson/thompson_main.htm
Click "all media" and then "single images" to view the collection. Mike
The above photograph is of Gregory Bald from Parson Bald (0023_000060_000388_0001) from the University of Tennessee collection.
---
Workdays in the Great Smoky Mountains National Park
Six months ago the Great Smoky Mountains National Park created a Trails & Facilities Volunteer Coordinator to manage all the volunteer trails projects and programs - adopt a trail, adopt a campsite, backcountry horsemen spring clearing, trails forever etc... and I am the person who filled the position.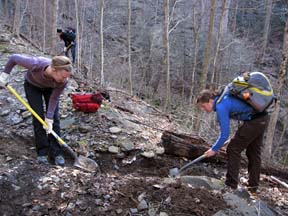 I am holding a bunch of trail workdays this coming season parkwide as part of the Trails Forever program and would love to get the Carolina Mountain Club involved. Below I included a list of the workday dates and the possible location.
Saturday, May 8th: Saturday in the Smokies: Lakeshore Trail from the Tunnel Trailhead Saturday, June 5th: National Trails Day (project under development) Friday, June 11th: Forney Ridge Trail Workday Saturday, June 19th: Saturday in the Smokies: Smokemont Loop Trail Friday, July 9th: Forney Ridge Workday Saturday, July 24th: Saturday in the Smokies: Rainbow Falls Trail Friday, August 13th: Forney Ridge Trail Workday Saturday, August 21st: Saturday in the Smokies: location to be determined Friday, September 10th: Forney Ridge Workday Saturday, September 18th: Saturday in the Smokies Workday: Pine Oak Nature Trail Saturday, September 25th: National Public Lands Day (project under development)
Friday, October 8th: Forney Ridge Trail Workday Saturday, October 16th: Saturday in the Smokies: Twentymile Trail
Happy Trails,Christine Hoyer, Trails & Facilities Volunteer Coordinator Great Smoky Mountains National Park
828-497-1949 (office) 828-736-0399 (nps cell)

---
Adopt a Section of the A.T.
Assistant Section Maintainer for Garenflo Gap to Deer Park Mtn Shelter
Adopt a Section of the MST
Richland Gap Access to Richland Balsam Access (3 Trees) 1.2 miles
If you're interested in either the A.T. or MST, email Don Walton.
Maintenance Reports created by Don Walton
---
Heard on the Trail
Watch where you Step!
Sent in by Mike Knies and Marsha Conners - taken somewhere in Florida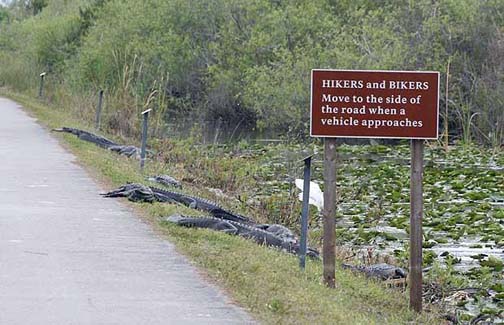 ---
The eNews comes out on Fridays. So ... The next issue will come out on Friday, May 21. Wednesday hike reports for the hike just before the eNews comes out will be published in the next eNews.
Hiker leaders, please send all your eNews hike reports and photos to Dave Wetmore at dwetmore@citcom.net
So send me your news and maintenance reports by Tuesday evening at 9 P.M. before the newsletter comes out, that is, by Tuesday evening May 18 to Danny Bernstein at danny@hikertohiker.com. Include your email address at the end of your story. Thank you.
The CMC Calendar is meant to answer the perennial question "When is this happening again?" It is also meant to prevent conflicts between competing CMC events. Please check it often.
How to join the Carolina Mountain Club
1. Go to www.carolinamtnclub.org
2. Click on "How to Join" (upper-left on web page)
3. Print out the "CMC Application Form"
4. Fill it Out, write a check for your dues and ...5. Mail to CMC, PO Box 68, Asheville NC 28802

For CMC members only - Send all address and email changes to Marcia Bromberg at mwbromberg@yahoo.com. Do not resubscribe yourself to the eNews. That will be done automatically.
If you are a non-member subscriber, you need to go back to the
CMC home page > News >Subscribe and change it there yourself.