From Your Editor
Happy New Year - Fill in your 2011 calendar!
Christmas is over and the New Year is here. Now is the time to fill in your calendar with important CMC happenings before your calendar fills up.
Look at the eNews calendar. Come out on a MST trail building day, sit in on a Council meeting and plan to attend the ATC Conference in July.
Look at the CMC hike schedule and put down some of the must-not-miss hikes. Danny
---
Clean energy presentation on January 20 at Catawba College
Fred Krupp, President of the Environmental Defense Fund, and Miriam Horn, an EDF Staffer, authors of the book Earth: The Sequel – The Race to Reinvent Energy and Stop Global Warming will be speaking at Catawba College in Salisbury, NC on January 20 at 6 P.M. The event is free, but you have to register in advance.
They will speak on "What's Next for the Clean Energy Revolution?" in Keppel Auditorium on the Catawba College campus.

For more information, see the website.
---
Help Wanted by the A.T.C.
Looking for a job?
We are recruiting an organized, database-friendly, communication-savvy, A.T. lovin' Office Manager to join our team. The position is part-time, provides general office support and also assists with implementation of Trail management programs. To read the full job description, click HERE. Interested candidates should submit their resume and cover letter to Lawson Bresette, H.R. & Benefits Administrator at lbresette@appalachiantrail.org on or before January 7, 2011.
---
Hike leaders needed for Virginia Journeys 2011 - second request
The 2011 ATC Biennial Conference will take place at Emory and Henry College (near Abingdon, Virginia) from July 1 to July 8, 2011. We need volunteers for Hike Leaders and Co-Leaders or Assistant Hike Leaders. Hikes will take place on the A.T. and various side trails from a few miles south of the Watauga Lake in Tennessee to a few miles north of I-77 in Virginia. There will also be hikes on trails in several State and Local Parks. Hikes vary in difficulty from easy (2-5 miles) to very strenuous. A complete list of planned hikes can be found on the Conferences website at www.Virginia2011.org.
Hike Leaders should plan on scouting hikes in advance if they have not hiked there recently. Hike Leaders can either find their own Assistant or Co-Leader or we will also match up individual volunteers.
If you are interested in leading hikes at Virginia Journeys 2011, please contact Pat Egan at: egans@firstva.com or 540-997-1339.
---
Mountains-to-Sea Trail from Clingmans Dome to Hanging Rock - Program on Tuesday Feb. 8
I will be presenting a program on the Mountains-to-Sea Trail in the mountains, from Clingmans Dome to Hanging Rock State Park.
On: Tuesday February 8 at 6 P.M.
At: Diamond Brand Outdoors, 2623 Hendersonville Rd. Arden 828-684-6262
The MST travels 1,000 miles through North Carolina - about half is on small roads.
CMC members are very familiar with the portion that the club maintains.
But what lies beyond that? See pictures of other outstanding places including Linville Gorge, OverMountain Victory Trail, Moses Cone Park, The Lump, Doughton Park and Stone Mountain.
Kate Dixon, Executive Director of Friends of the Mountains-to-Sea Trail will introduce the program.
Danny Bernstein
---
Peter Barr's 2010 Appalachian Trail Slideshow/Movie Presentation - Feb. 2


Please join Peter Barr on February 2nd at 7:00pm at the Henderson County Library (301 N. Washington St. ) for the presentation of a slideshow/movie featuring his 2010 Appalachian Trail thru-hike.
"Whippersnap" completed the 2,181 miles of the A.T. this summer, also hiking an additional 200 total miles to reach peaks, waterfalls, high points, historical spots, and views which will be featured in the presentation.
He also used his hike as a fundraiser for the rehabilitation of the Shuckstack lookout tower in the Great Smoky Mountains National Park. His movie/slideshow will last 80 minutes and be followed by a question and answer session. Save the date!
---
Sherman Stambaugh's 90th Birthday Celebration
Four generations of Stambaugh and a large group of CMC members celebrated Sherman's birthday at a pot luck party at the U-U Church in Asheville.
Hiker after hiker talked about what they learned from Sherman about trail maintenance skills. We also learned about the importanc of staying fit, active and connected with others.
Here is the best story - from Gerry McNabb.
The year was 1972. I was President of the club and needed new wheels. The Deal Buick agency on Merrimon Ave. in Asheville was on my way home from work so I stopped in to check it out. As I walked into the showroom a mature man walked out of the small sales office… he looked over 50. He introduced himself as Sherman Stambaugh and I told him I needed a comfortable, reliable used car. He said, " I think I have something you might like," and he showed me a used 1969 Buick 2-door model. I drove it, liked it, and asked him "how much"? $1200 he said. That seemed like a good buy so I told him I would take it.
After the paper work was complete, I gave him an application to the CMC and told him to come join us for a hike. Well, he did and he started hiking with us. That's how Sherman joined the club. I drove home that day truly delighted with the luxurious bargain I had gotten… a great deal.
But driving here today to Sherman's 90th Birthday Celebration, I started thinking about that transaction in retrospect. I said to myself, "hey, wait a minute… it was actually Sherman who had gotten the better of me. After all, he's still hiking, still a member of the club, and my car died a long time ago." Mocking my realization, I jokingly declared, "I'll never trust a used car salesman again."
The moral of this story is that you never know the impact an invitation to join us may have on someone's life. It could even mean a longer one. Gerry.
---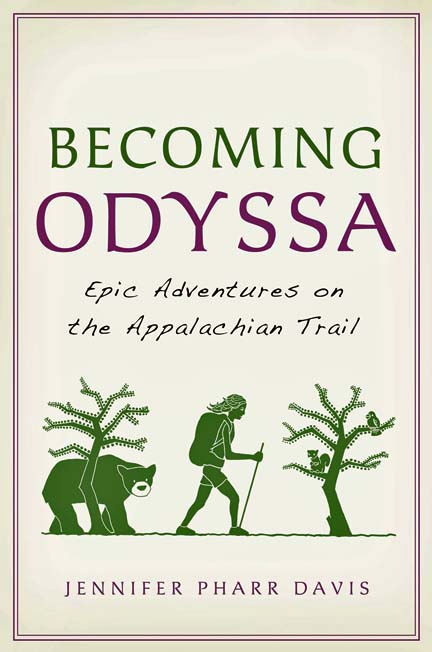 Becoming Odyssa by Jennifer Davis
Reviewed by Danny Bernstein
In western North Carolina, Jennifer Davis is like a movie star.
She holds the women's record for the fastest completion of the Appalachian Trail - 57 days which means an average more than 38 miles a day. Let's think about this - that's running more than a marathon day after day. She was supported by her husband (bless him).

But her book is about her first hike in 2005 which she did in a conventional manner. She carried all her gear but still hiked quickly enough to finish in four months.
After finishing Stanford University as a Classics major, she was independent for the first time and hiking the A.T. was her job. It was not a way to run away from anything.
Davis does not sweeten the A.T. experience. Her shoulders ache, her calves burn after a long climb, her stomach growls She's in great shape but her feet are her nemesis - after a while they bleed and ooze pus. She gets hit by lightning and she discovers something shocking on the trail - I don't want to spoil it for the reader.
But her answer is always to keep walking. Her mantra is Every step I take is closer to Maine.

She writes well - you can tell that she had a good liberal arts education - but she only writes about what she sees and thinks. So don't expect any history or larger cultural context of the A.T. A recommended read.
---
Meet Carroll Koepplinger by Danny Bernstein
Carroll Koepplinger is the oldest active all-day Sunday CMC hiker. Having just turned 81, he can be found acting as sweep and encouraging those people who may be a little slower than the rest of the group.
"I've been inspired by Sherman Stambaugh, who just celebrated his 90th birthday," Carroll says.
"I was on a CMC hike a few years ago with Sherman. We had reached the top of a mountain. I pulled out my cell phone and called my sister who's a few years older than me and said 'Hey, I'm on a mountain with a guy who's 82.' "The implication was "What's wrong with you?"
Read the whole interview with Carroll.
---
Headwaters Track on its way to being saved
Every once in a while there's an opportunity to save a tract of land.
Former Congressman Charles Taylor has agreed to sell 8,000 acres of land on the Headwaters of the East Fork of the French Broad River.The Headwaters Tract lies between Dupont State Forest and Gorges State Park, on the Blue Ridge Escarpment. The property has 25 waterfalls and has 50 miles of stream with native brook trout.
To make this sale happen, the NC Wildlife Resources Commission needs to take over the management of the land for multiple use - hunting, fishing, hiking and even mountain biking. It would be managed like the Green River Gamelands that CMC hikes on regularly.
CMC has come out in favor of this sale. See Tish Desjardin's letter to Senator Burr on behalf of the Conservation Committee and CMC, one of several letters sent to North Carolina legislators. In November, several CMC members attended a hearing in Transylvania County on the Headwaters Tract.
The interplay of all the parties is not easy to understand. See my article in the Mountain Xpress which explains all the parties involved. For continuing information, see Save East Fork of the Headwaters website. Danny
Hot off the press – Dec. 29 - The Conservation Fund announced the $5.5 million purchase of a privately-owned 786-acre tract that represents the last, unprotected section of the storied Foothills Trail, which winds along the border between North and South Carolina. The support of Carolina Mountain Land Conservancy, a generous donation from Fred and Alice Stanback of Salisbury and a $1 million grant from the Carolina Water Management Trust Fund helped make this project possible. Preserving this property is the first phase of a potential multi-year, multi-phase effort that is contingent upon support from state and federal conservation funding programs to protect the magnificent 8,000-acre property.
---
MST Trail Building Days in 2011
Five Saturday MST trail building days have been announced - March 19, April 30, June 4 (National Trails Day), September 17 and October 22.
We've decided to skip the breakfast and meet instead at 8:30 at the Home Depot at the Enka-Candler Exit 44 located off of I-40. As in the past, we will be back in Asheville by 3:00. Please spread the word and make every effort to attend. Les Love
---
MST sections for adoption
1. Doubletop to Old Bald access - Length is 1.1 miles

2. Richland Gap Access to Richland Balsam Access ( Three trees) - 1.2 miles
3. Bear Pen Gap Access to Haywood Gap - 2 miles
If you're interested, contact Larry Sobil at lsobil@bellsouth.net
---
New Pisgah National Forest Website
Finally, the four National Forests in North Carolina have a professional looking website. These include Pisgah, Nantahala, Uwharrie, and Croatan National Forests, spanning from the mountains to the sea.
You can see special alerts, look at maps, and learn about events. Let's just hope they keep this website up to date. The website address is very long so just click on their website and save the address.
---
The eNews comes out on the last Friday of the month.
So ... The next issue will come out on Friday, January 28. Wednesday hike reports for the hike just before the eNews comes out will be published in the next eNews.
Hiker leaders, please send all your eNews hike reports and photos to Dave Wetmore at dwetmore@citcom.net
Please see How to write a hike report.
So send me your news and maintenance reports by Tuesday evening at 9 P.M. before the newsletter comes out, that is, by Tuesday evening January 25 to Danny Bernstein at danny@hikertohiker.com. Include your email address at the end of your story. Thank you.
The CMC Calendar is meant to answer the perennial question "When is this happening again?" It is also meant to prevent conflicts between competing CMC events. Please check it often.
Westgate parking - Park in the northernmost part of the lot - past EarthFare, in the last row of parking spaces.
How to join the Carolina Mountain Club
1. Go to www.carolinamtnclub.org
2. Click on "How to Join" (upper-left on web page)
3. Print out the "CMC Application Form"
4. Fill it Out, write a check for your dues and ...5. Mail to CMC, PO Box 68, Asheville NC 28802

For CMC members only - Send all address and email changes to Marcia Bromberg at mwbromberg@yahoo.com. Do not resubscribe yourself to the eNews. That will be done automatically.
If you are a non-member subscriber, you need to go back to the
CMC home page > News >Subscribe and change it there yourself.