From Your Editor
It's spring. Wildflowers, mild weather, daylight savings time, great trails. Life can't be better than this. Danny
---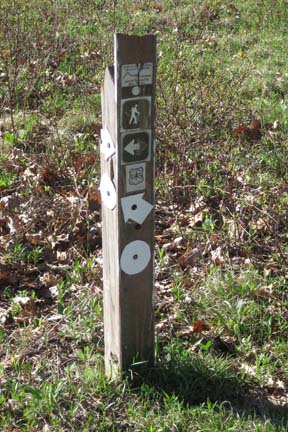 Building the Mountains-to-Sea Trail - Saturday March 19
Let's continue to build the MST - Saturday March 19
We'll meet at 8:30 A.M. at the Home Depot at the Enka-Candler Exit 44 located off of I-40. As in the past, we will be back in Asheville by 3:00.
Please spread the word and make every effort to attend.
Get all your able-bodied friends and neighbors to come help too. It is for a great cause and everyone will feel so good after putting in a days work constructing new trail! Please spread the word. Les Love.
P.S. The next MST work day will be April 30 - same time, same place.
---
CMC Map Reading Course - April 2
Ever wondered what all those squiggly lines on topo maps are good for?
You can find out at our biennial map-reading course. The course will be held on Saturday, May 2. The class leaders will be Becky Smucker and Dave Wetmore. As usual, it will be an all-day affair with class in the morning and a practical exercise in the afternoon. The emphasis will be on map skills for walking (and finding) trails. New this year will be a discussion of how a GPS unit can supplement a paper map.
The class size will be limited to 12 people. For more information or to register for the class, contact Dave Wetmore at dwetmore@comporium.net
---
Help Remove Invasives and have a party
ATC and its partners will hold several invasive removal blitz. One will include a real party at Max Patch.
For all information, contact John Odell jodell@appalachiantrail.org. Here's the schedule: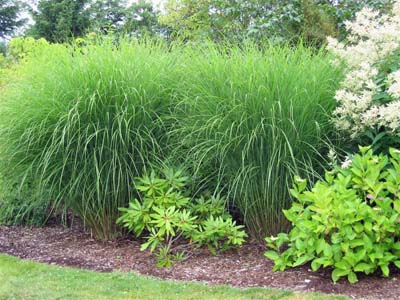 April 9 – Lemon Gap garlic mustard/Japanese spiraea removal
April 23 – The Great Garlic Mustard Gathering, Lemon Gap/Max Patch
April 30 – Rain Date for The Great Garlic Mustard Gathering
May 7 – Carvers Gap/Roan Mountain control and inventory of invasive plants
June 3, 4 – Stecoah Gap control of multiflora rose and Japanese stiltgrass.
June 26 – Hot Springs kudzu control (contact bob@wnca.org for info)
July 20 – Davenport Gap Miscanthus control (contact bob@wnca.org or lindsay@equinoxenvironmental.com)
August 5, 6 – Sam's Gap control and monitoring of Chinese silvergrass (Miscanthus sinensis)
The picture above is of Chines silvergrass - an invasive exotic around here.
---
April Fool's Trail Days A Celebration of the Appalachian Trail
Historic Franklin, North Carolina • April 1 & 2
Come to Historic Franklin, North Carolina for April Fool's Trail Days and the annual Hiker Bash as we celebrate our appreciation of Appalachian Trail Hikers. As an Appalachian Gateway Community, Franklin opens the town to all hikers of the Appalachian Trail as you start their journey north to Katahdin.
For all details, go to http://www.aprilfoolstraildays.com/
---
CMC Spring Social on Saturday April 23
The sixth annual Spring Barbeque will be held in the beautiful NC Arboretum on Saturday, April 23, from 2:30 until 8:30.
This year, our own member, Dwight McCarter, retired Great Smoky Mountains National Park ranger and author of Lost!, will be our after dinner speaker.
See all the details and sign up.
---
CMC's SB6K Challenge Makes Magazine Cover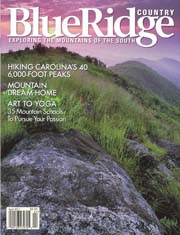 Check out CMCer Stephen Schoof's cover article in Blue Ridge Country magazine featuring the Carolina Mountain Club's South Beyond 6000 hiking challenge!
The article, found in the April 2011 issue, is on newsstands now; or find it in your local library. Peter Barr
---
Meet Paula Robbins by Stuart English
Recently, we talked to Paula Robbins, hike leader and for several years the scheduler for the Half-Day hikes. In many ways Paula epitomizes the type of people that are drawn to Carolina Mountain Club and the Asheville area.
Paula was an active hike leader and half-day scheduler for many years.
---
Proposed Forest Planning Rules Meeting on Monday April 4
The USDA Forest Service, Southern Region, is hosting a public forum on the Proposed Forest Planning Rule. The purpose of the public forum is to increase public understanding of the proposed planning rule, and to provide an opportunity to ask questions and dialogue with other stakeholders.

"This proposed planning rule seeks to conserve our forests for the benefit of water, wildlife, recreation and the economic vitality of our rural communities," said Agriculture Secretary Tom Vilsack. "The proposed rule will provide the tools to the Forest Service to make our forests more resilient to many threats, including pests, catastrophic fire and climate change. Healthy forests and economically strong rural communities form a solid foundation as we work to win the future for the next generation."

The open forum will take place at the NC Arboretum in Asheville on April 4, 2:30 - 6:00 p.m.
---
MST sections for adoption
1. Doubletop to Old Bald access - Length is 1.1 miles

2. Richland Gap Access to Richland Balsam Access ( Three trees) - 1.2 miles
3. Bear Pen Gap Access to Haywood Gap - 2 miles
If you're interested, contact Larry Sobil at lsobil@bellsouth.net
A.T. sections for adoption
Garenflo Gap to Deer Park Mountain Shelter. 3.2 Miles
Big Butt to Flint Gap. 3.3 Miles
Contact: Tim Carrigan, (828) 398-4211 before 6:00 PM
or email ATsupervisor@carolinamountainclub.org
---
Oconaluftee Visitor Center to open April 15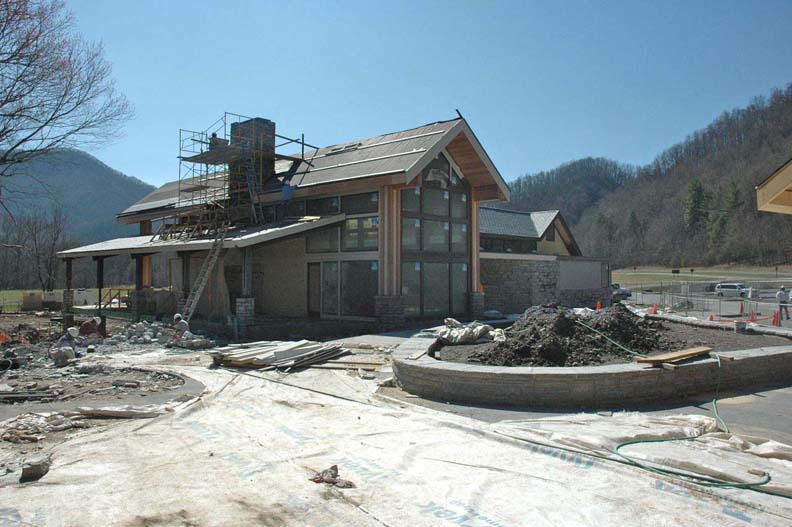 The new Oconaluftee Visitor in Great Smoky Mountains National Park is awesome and much bigger than the current one.
The exhibits will emphasize the cultural history of the settlers and will feature subjects like food, crafts, farming and, yes, moonshine.
The visitor center doesn't look quite ready for visitors now.
But if all goes well, there will be a grand opening for the public on Friday April 15. The time has not yet been announced but you can be sure that it will be well advertised. Danny
---
The eNews comes out on the last Friday of the month - except for this coming month.
So ... The next issue will come out on Friday, May 6. Wednesday hike reports for the hike just before the eNews comes out will be published in the next eNews.
Hiker leaders, please send all your eNews hike reports and photos to Dave Wetmore at dwetmore@citcom.net
Please see How to write a hike report.
So send me your news and maintenance reports by Tuesday evening at 9 P.M. before the newsletter comes out, that is, by Tuesday evening May 3 to Danny Bernstein at danny@hikertohiker.com. Include your email address at the end of your story. Thank you.
The CMC Calendar is meant to answer the perennial question "When is this happening again?" It is also meant to prevent conflicts between competing CMC events. Please check it often.
Westgate parking - Park in the northernmost part of the lot - past EarthFare, in the last row of parking spaces.
How to join the Carolina Mountain Club
1. Go to www.carolinamtnclub.org
2. Click on "How to Join" (upper-left on web page)
3. Print out the "CMC Application Form"
4. Fill it Out, write a check for your dues and ...5. Mail to CMC, PO Box 68, Asheville NC 28802

For CMC members only - Send all address and email changes to Gale O'Neal at gogalemail@gmail.com. Do not resubscribe yourself to the eNews. That will be done automatically.
If you are a non-member subscriber, you need to go back to the
CMC home page > News >Subscribe and change it there yourself.